Her father accompanies his daughter to the altar but as she walks down the aisle she also invites her stepfather to join them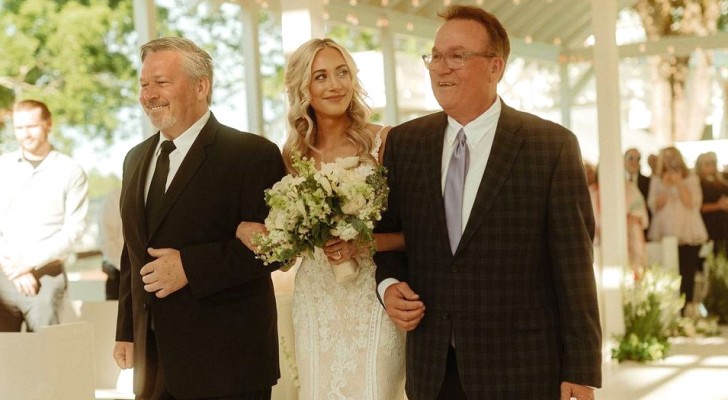 Advertisement
Marriage is a wonderful opportunity to celebrate the love that unites two people together with friends and relatives and, usually, it is a day full of expectations, organized down to the smallest detail. Usually, the bride is accompanied by her father down the aisle of the church, or along the corridor of the place chosen for the ceremony, until she reaches her husband. It is an exciting moment especially for family members, who wipe away their tears of emotion with a handkerchief at hand. At Kelsey Griffith's wedding, the moment to approach the altar and the groom was even more moving as the young woman and her father suddenly acted to include the bride's stepfather at this special time.
via Instagram / Kelsey Griffith
Advertisement
It is traditional for the father to accompany the bride to the altar, but what to do when there are at least two such important personalities in the life of a young woman? Kelsey Griffith was arm in arm with her father as her husband moved towards her, moved by her, under the gaze of all those present who were also very excited for her. Only she and her father knew what would happen during that little journey: Kelsey's father turned to the young bride's stepfather and invited him to join them. So, Kelsey walked towards the altar arm and arm with her "two dads"!
A truly moving and emotional scene for all present, including the stepfather, unaware that Kelsey and her father would include him that way in the ceremony. Obviously, the man was delighted, as the photos and video of the great event testify!
Advertisement
A beautiful gesture, therefore, which moved the guests and the participants at the wedding. We just have to wish all the best to this beautiful family!