Loyal bar customer gifts a fully-furnished house to an evicted employee (+VIDEO)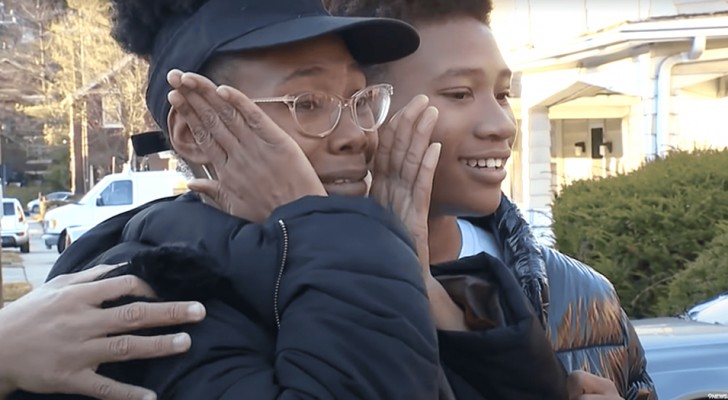 Advertisement
Sometimes, it seems like miracles happen just in time for Christmas. Unfortunately, moments of hardship and difficulty happen all year round, but there is just something "magical" in the air that pushes us to do good deeds during the Christmas holiday season. Every day, Suzanne Burke has coffee in the same place, where she has now made friends with Ebony Johnson, a dedicated employee and mother of 3 children. Suzanne was upset when her friend stopped coming to work; then she found out that Ebony had been evicted from her home and that she was looking for shelter for herself and her children. So Suzanne decided to step in and help her.
via WCPO
Advertisement
When you are in a position to help someone, why not just do it? All the more so if it is a friend. Suzanne Burke knows this very well: "When Ebony went through this hardship, I just wanted to see if I could help her and her children," explained Suzanna. The two women met three years earlier at Ebony's workplace and, ever since, Suzanne has remained a loyal customer and Ebony has been an outstanding employee. Over the years, a beautiful friendship developed and so it was natural that Suzanne instinctively tried to help Ebony: "I wanted to make sure they had stable accommodation so that Ebony could continue to provide the excellent service she does at Dunkin '." . Thanks to her efforts, Suzanne has managed to do the impossible, by contacting local organizations and outfitters; with their help, she managed to get the Johnsons a fully furnished house just before Christmas!
Advertisement
The house was also fully-furnished thanks to the contributions of Jo Potvin of Design to Market and New Life Furniture Bank, a "used furniture bank" that people in need can turn to. Obviously, Ebony was shocked when she saw the house for the first time and realized that her family was not going to be out on the streets at Christmas time. Her children were also thrilled to see the house and their rooms for the first time. Their thrilled reactions are clearly shown in the video below:
A small, festive miracle, which Ebony could hardly have hoped for, even as she kept praying that she could "be in a house before Christmas". And so it came to be. "It's the perfect time of year to feel like you're spreading joy," said Potvin, while Dana Saxton, executive director of New Life Furniture Bank, echoed these feelings: "It's a gift to us as much as it is to them to be able to provide them with this," he said.
This wonderful gesture has allowed an entire family to live safely and with dignity. Would that there were more people with the same generosity and drive as Suzanne Burke!
Advertisement