Eighty-year-olds celebrate their anniversary wearing the same clothes as they wore 60 years earlier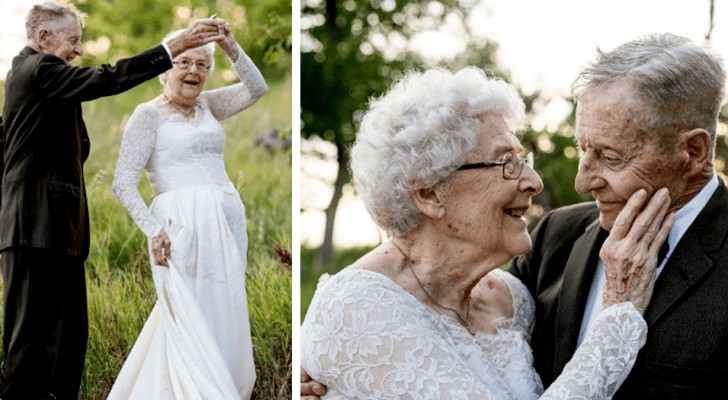 Advertisement
When love becomes a deep and lasting feeling, it can last a lifetime, never changing and allowing two people to love each other the same way they did when they first met and fell in love. It's no coincidence that more and more elderly couples decide to celebrate their 50th wedding anniversary, or even their 60th anniversary, renewing their wedding vows with the same enthusiasm as they had when first wed.
via ABC Nebraska
Advertisement
The same thing happened for Marvin and Lucille Stone, an elderly couple from Nebraska who recently celebrated their 60th wedding anniversary in the most emotional and moving way possible; the initial idea was Lucille's who wanted to renew her wedding vows with her beloved Marvin, becoming the stars of a photo shoot to be remembered forever with affection, emotion and enthusiasm.
The unusual thing about this photo shoot is that they decided to renew their love while wearing their original clothes, the same ones they had worn on their wedding day sixty years ago.
Advertisement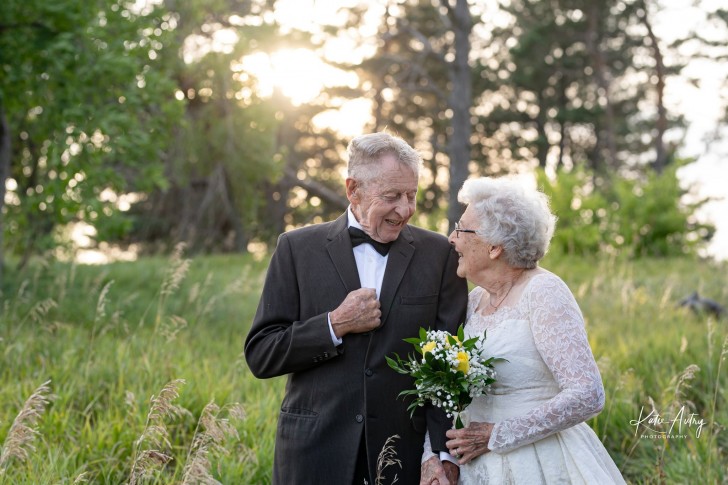 Katie Autry Photography/Facebook
To make the photo shoot, Lucille and Mervin turned to Katie Autry, a professional photographer from Nebraska, but not exactly specializing in weddings: "Weddings are not the main part of my photographic business, but I was really trying to recreate wedding photos for them to make their 60th anniversary so special!"
Lucilla said that she absolutely wanted to wear her white wedding dress again, because it had a very important emotional value for her: she had made it with her own hands when she was only 22, even if to wear it again after six decades she had to move the buttons and loosen the waist. As for Marvin, however, the groom's suit still fitted him perfectly!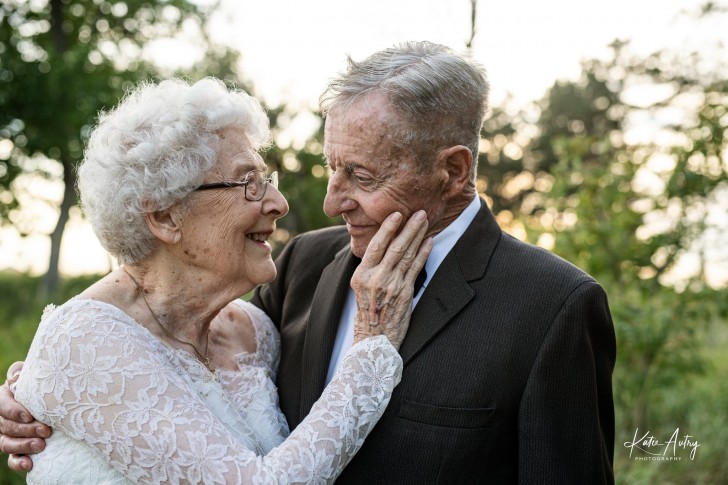 Katie Autry Photography/Facebook
On the day of the photo shoot, Katie Autry did her best to immortalize the couple with some truly unforgettable shots, capturing all the love that this couple of over 80s still feel for each other; it had been sixty years since their marriage, yet they seemed thrilled and excited as if it were the day they had first met. She, at 81 years old and holding a bridal bouquet, stands close to him, at 88 years old, and with the natural backdrop of a beautiful sunset.
Lucille and Marvin got married on August 21, 1960, and in the following decades they built an extraordinary family: three children, six grandchildren and four great-grandchildren!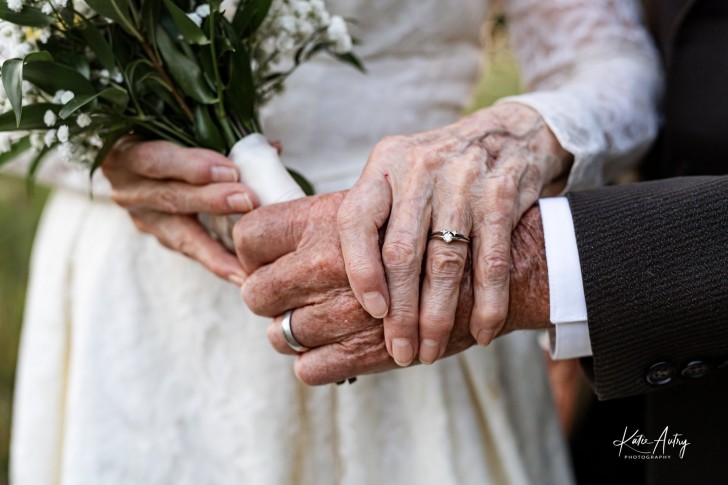 Katie Autry Photography/Facebook
The secret to being as in love with your husband or wife after so many years as if it were your first day? According to Marvin and Lucille, you have to work hard, be kind to each other, think before you speak, rely on each other's strengths to overcome your weaknesses, and then always have faith.
Five golden rules to keep in mind for the recipe for the elixir of ... a long and happy love!
Advertisement