Young mom goes to the university entrance exam with her son in her arms: "it's a lack of respect"
Karla Méndez Mejía is a young mother of 23 who, despite having joyfully embraced her motherhood, has not been knocked down by the obstacles that society has tried to impose on her and not even by the practical difficulties that are naturally entailed in keeping a child. Karla is young and still has many goals to reach and many dreams to achieve, even if one has already come true: her sweet baby is certainly the first reason why every morning she wakes up happy to be a mother. Karla, however, would also like to be an architect and, for this reason, has decided to enroll in the faculty of architecture, at a university.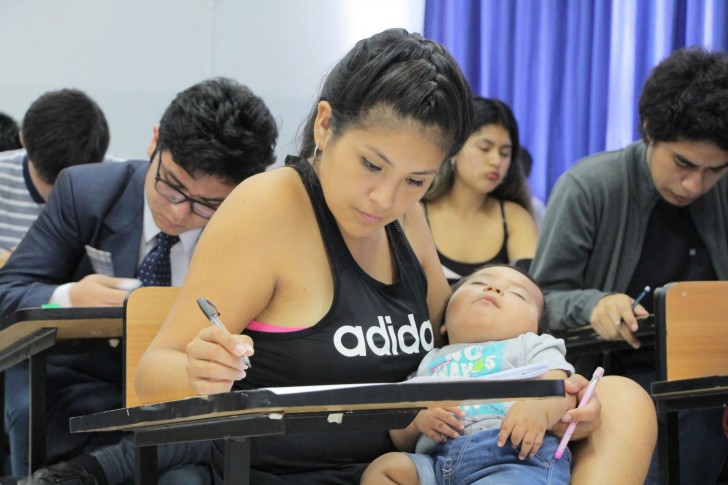 Maternity and university education should not be exclusive: a mother should always retain the right to increase her professionalism and to improve, both on a personal and working level. Still, someone on the web had a hard time when Karla showed up for the entrance test to enter university, holding her 4-month-old son in her arms. The woman had no idea who to leave her baby with during the test, so she bravely decided to take it with her. Motherhood cannot and must not be an obstacle to study and professional fulfillment. Fortunately, the directors of the university, César Vallejo University, allowed Karla to take the exam with her baby and everything went smoothly.
The sweet image depicting Karla intent on answering the test questions, with her son sleeping in her arms, has certainly generated many discussions among web viewers. Many congratulated the young mother for her courage and resourcefulness, but there was also someone who allowed herself to write how much Karla's behavior was "a lack of respect" towards the other candidates: "It seems to me a great disrespect to bring a newborn to an examination of this kind, where a lot of concentration is needed ", reads the comment, in which the user then refers to the fact that the child could start crying, ruining concentration for everyone.
Karla was not intimidated by the negative comments and continued on her way: "Be professional and go ahead" is her motto to survive and live a better life! In addition, the young mother has a consideration that can be valuable for everyone: "Being a mother does not prevent me from making my dreams come true, on the contrary, it motivates me more. I want to guarantee my son a better life. I know that it will not be simple, but thank God I have the support of my family and my partner, who encourage me to continue and achieve my goals. I will not give up. "