A girl cries for joy when her parents adopt her favorite puppy from the shelter where she is a volunteer
Hallee Fuqua is one of the many girls who from an early age asked parents for permission to have a dog. Mom and Dad, however, have always told her that before having a dog she should finish her studies and that they would give her a dog "for Christmas" only after finishing college. Hallee, therefore, had to give up the idea of having a dog in a short time and, alternatively, began volunteering at a shelter (Humane Society of Stillwater) where she could gain experience and get the company of dogs. Her parents, however, really kept their word!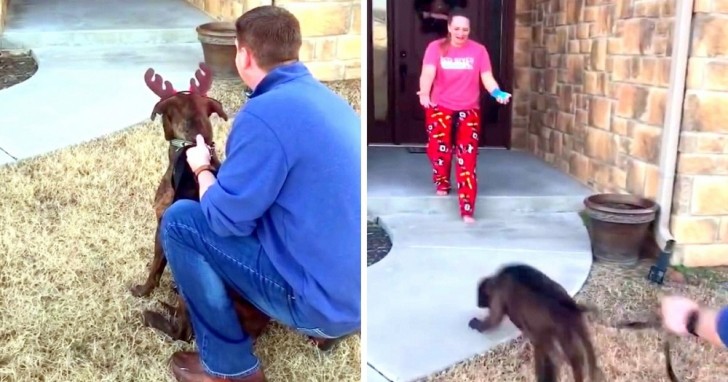 Halle, perhaps, had given up hope - when she opened the front door and saw her father crouching while holding a dog, she burst into tears. That dog was not just any dog, but was HER dog: when she volunteered in the kennel, Rambo, the chocolate brown Labrador puppy who was now in her father's arms, was her "favorite". Rambo had been saved from the street and the incredible bond that had been created with Halle was already evident at the shelter.
The girl's parents were perfectly aware of the special bond that had been created between their daughter and this dog in particular, and they also knew that Halle could not wait to finish college. Even Christmas seemed too far away to wait to reunite that dog with his "natural" mistress, so the parents decided to give her an early gift.
Halle's reaction is truly priceless: she cries with joy as she hugs her four-legged friend, Rambo, delighted to see him again!