Abushe, the blue-eyed Ethiopian child: he is 8 years old and suffers from a rare syndrome that made him "famous"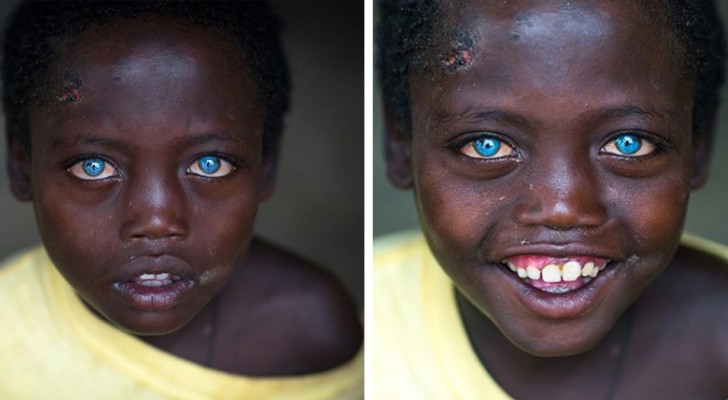 Advertisement
Abushe is an 8-year-old Ethiopian boy from the city of Jinka in the south of the country. The baby was born with a very rare genetic condition that makes his eyes an intense blue, out of the ordinary - he suffers from Waardenburg Syndrome, a rare pigmentation disorder that is often associated with deafness. Little Abushe comes from a very poor family and although his eyes have now become "famous", there is no day when the boy does not suffer from being born so different from the others. They call him the "plastic-eyed boy" and bully him for this condition. But he doesn't care, because his biggest dream is to become a great soccer player just like his idol, Lionel Messi of Barcelona, and thus provide for his family.
via Ethiopanorama
Advertisement
When he was born, the family was very frightened to see those eyes of such an intense blue color: they feared that the baby was born blind or that he would soon become so. The thought of a sick child worried them a lot because they knew that they could never afford adequate medical treatment.
Abushe is not blind, of course, but has Waardenburg Syndrome, a very rare condition that affects 1 in 40,000 individuals.
The boy lived in a wooden hut with his grandparents who, although extremely poor, always managed to guarantee him something to eat and books to study. One awful day, however, a terrible fire destroyed his home and the family's few possessions, including Abushe's school books. From then on Abushe was unable to study.
Advertisement
The only object he managed to save from that fire was a red soccer ball: Abushe loves to play ball and tries to train when he can, since he would like to become a great soccer player, just like his idol Lionel Messi. At that point, he could finally support his family and be happy: this is his dream as a child!
Soccer is both leisure and a hope for many children ... we hope that Abushe will soon find his way and live a happy life, as he deserves.