This married couple of nurses smile in the midst of the emergency: a photo symbol of love and hope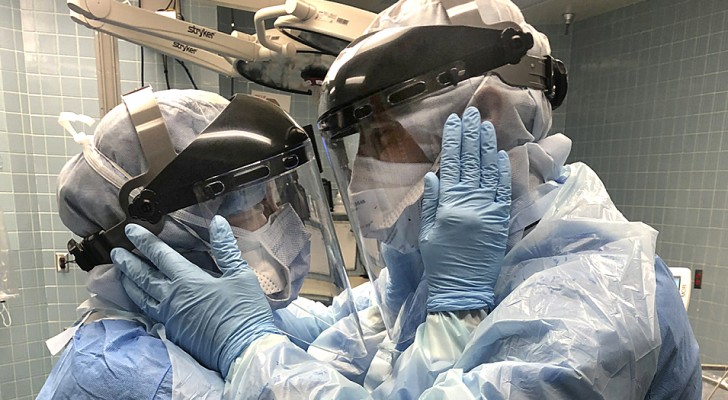 There are some images that, more than others, have the incredible power to symbolize an important moment, sometimes an entire era, and remain etched in people's memories for a long time.
They are precisely those shots that, better than many words, describe feelings, situations, joys, pains and hard work. Ben Cayer and Mindy Brock, married couple from Tampa Bay, Florida, have become the protagonists of one of these snapshots. The life of many doctors and health professionals, in the midst of the Coronavirus emergency, is not at all simple: it is particularly difficult for them to combine work and family. Ben and Mindy, who work as nurses in the same hospital, were captured in a very sweet moment full of love and desire to support each other.
via Tampa Bay Times
Advertisement
The picture speaks for itself. The work of these two spouses, since the terrible enemy that the whole world is fighting has made its appearance, has become particularly risky. So, strengthened by their mutual feeling and the fact that they share the same job, Ben and Mindy can do nothing but give each other courage. The image, taken after surgery, quickly went around the world, becoming a true symbol of pure love and hope.
Despite being divided by protective suits, gloves and helmets, husband and wife have never been so close: their smile seems to almost "come out" of the masks, while keeping their hands on their faces. A photo with a profound meaning, which shows the true and daily reality of many nurses and doctors who are giving their best to assist patients.
"The important thing is to stay united and support each other," Mindy said. We cannot blame her, and we hope that unity and courage will soon guide us out of this sad period.