This 14-year-old boy prepares and sells baked goods every morning to help his mother pay for her medical bills
We've all heard parents say that they would do anything for their kids, but have you ever heard of kids that would do anything for their parents? 
Believe it or not, kids like that do exist. One of them is a 14-year-old boy named Elijah, who wakes up at 5am every morning to prepare baked goods that he later sells in order to help his mom pay for her much needed medical treatments.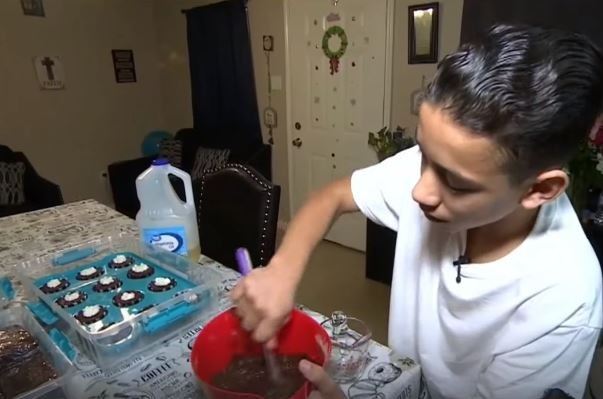 You could say that Tina Hernandez is a very lucky woman, despite her fair share of hardships over the years. Her biggest harship was in 2017, when she almost lost her life to a serious health condition. Thankfully, for her three children, she survived. Her recovery, however, was far from over and required many months of expensive physical therapy and medical treatments. In addition, the fact that she could no longer work only put the family under more financial strain. That's when Elijah decided he had to do something to help his mother out.
Elijah has enjoyed cooking ever since he was little, but he never imagined that baking would be a way for him to actually earn money. He especially didn't think it would be a way for him to help his mom pay for her expensive medical bills.
Elijah wakes up every morning at 5am and, even though he's tired, begins his day preparing baked goods that he later sells to his classmates at school. All proceeds go toward paying his mom's medical bills, who over the last few years has undergone 5 surgeries and 3 blood transfusions. There were even times when they didn't know if she'd make it out alive.
Today, thankfully, Tina is no longer fighting for her life. Althought it's true that the hardest part is now over, this doesn't mean that the rest of her recovery is a walk in the park. And even though Elijah is doing what he can help to improve the family's financial situation, he can't do it all on his own. That's why Tina decided to create a GoFundMe page in honor of her son and his dedication to helping the family.
And what was the result? In three days, they were able to collect over 10 thousand dollars, and the amount is still growing! This money will definitely help make a difference in their lives. Elijah will be able to devote more time to his studies (and to sleeping!) while Tina will be able to pay for the medical care she needs to make a full recovery.
None of it would have been possible, however, without the amazing iniziative Elijah took for his family. What he did for his mother was truly a selfless act that reflects the amount of love, sacrifice, and devotion a child can offer their parent.