This cat collects money for the homeless by "capturing" money from passersby who stop to play with him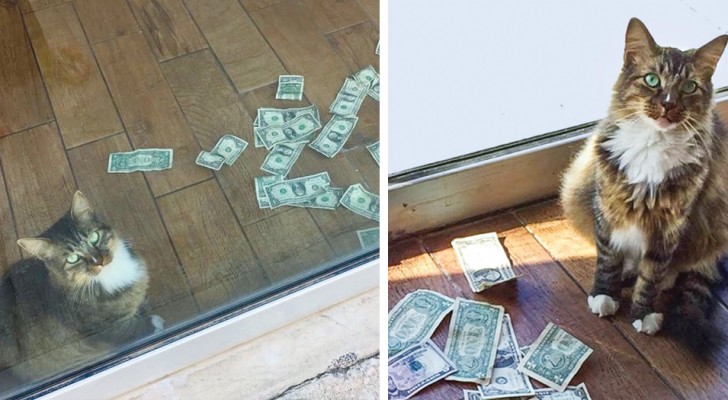 Advertisement
As well as being experts at loud and continuous purring, cats are also animals that are highly skilled in hunting!
It is not by chance that in the past, but also in many situations today, cats are kept in inhabited places just to keep mice and other unwanted guests away.
In fact, the male cat we are going to talk about today was adopted specifically to chase and keep mice out of an office, but in the end, his physical prowess also proved useful for charity fundraising!
via ABCNews
Advertisement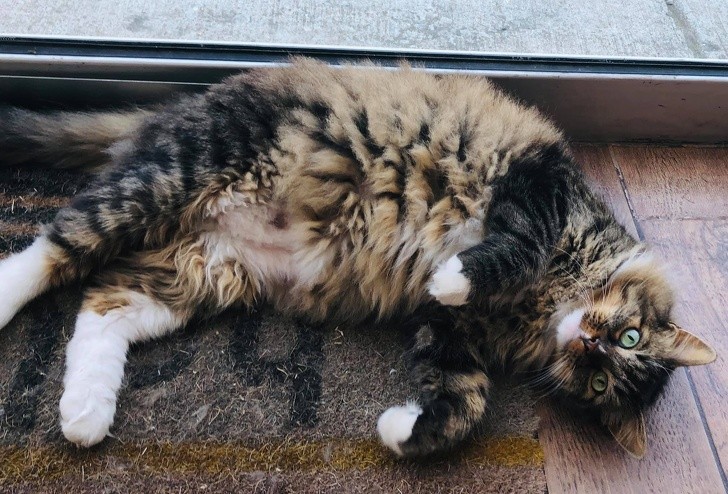 It is difficult to imagine how a soft and playful cat can become a charity fundraiser!?
In any case, it all started when the owner of a marketing agency adopted a cat to drive mice out of his office space.
Advertisement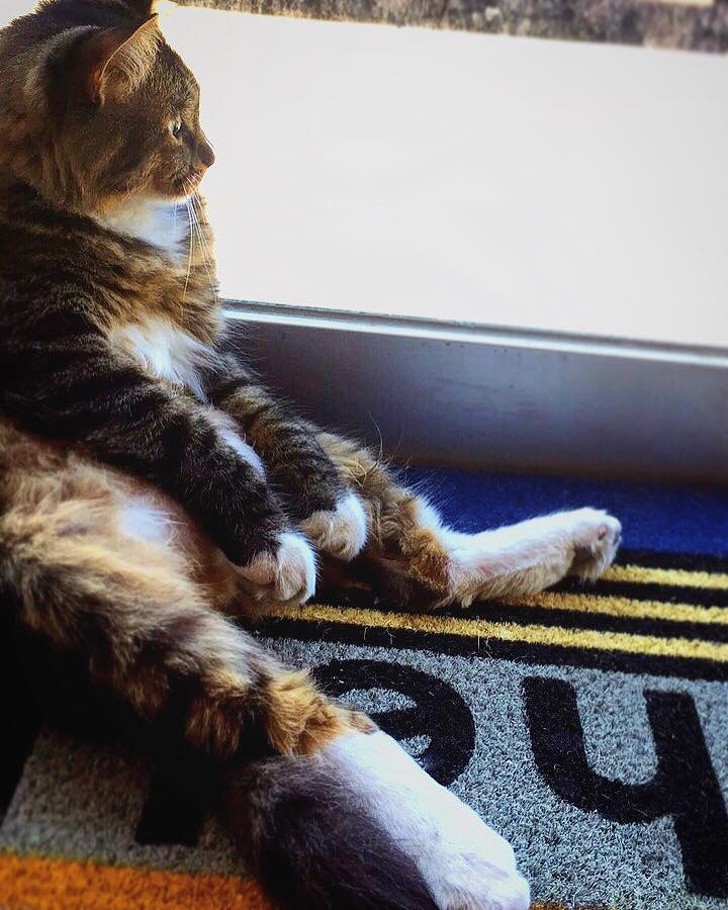 The enterprising cat quickly got used to both the office and the employees who spent time with him every day.
His favorite pastime? Sitting or standing by the large office window door and watching the world outside go by.
One day, however, the employees started finding money in the office on the floor near the large office glass door!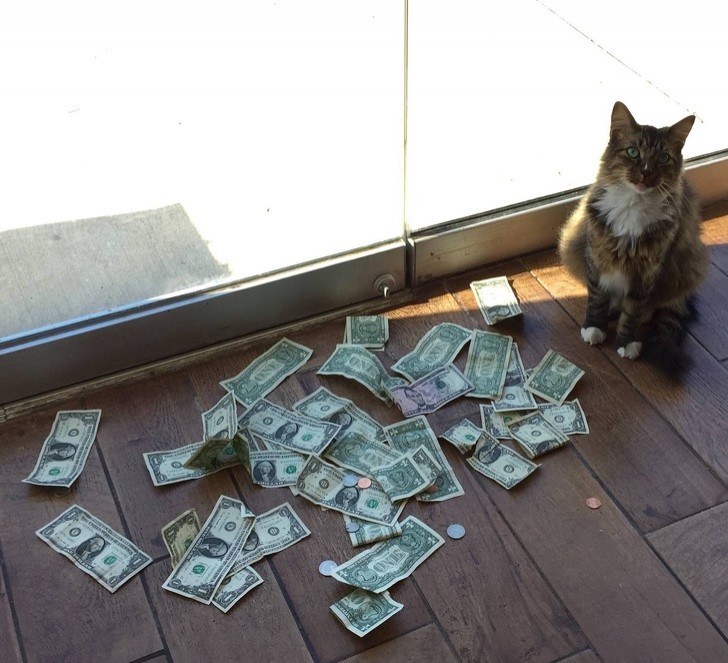 And none of them were able to understand how all those dollar bills could have ended up there.
Someone came up with the hypothesis that it could be that passersby stopped to play with the cat by inserting a dollar bill in the very narrow aperture of the large glass door.
So, they made a trial attempt and the hypothesis turned out to be correct!
Clearly, it seemed that the cat snatched at the dollar bills that passers-by offered him until he caught the bills and then left them—as captured "prey" on the office floor in front of the glass door!
Now, the only thing left to determine was what to do with all that money—and it was decided to allocate it to a charity center in the area that helps the homeless.
As a matter of fact, the cat before being adopted had itself been homeless!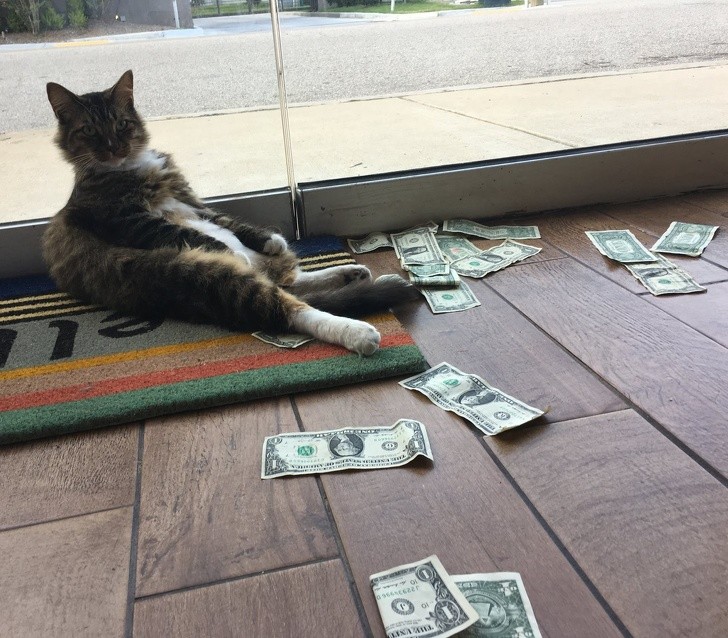 In fact,
CASHnip Kitt
y
says,
"Slide a dollar through the slot and great blessings will follow."
Thus was born a charity fundraiser for the homeless called
CASHnip Kitty
in which many people still continue to participate despite never having met the cat or having played with him through the glass door.
People can do this by allocating money directly to the cat via CASHnip Kitty, which is then sent to the homeless charity center.
Advertisement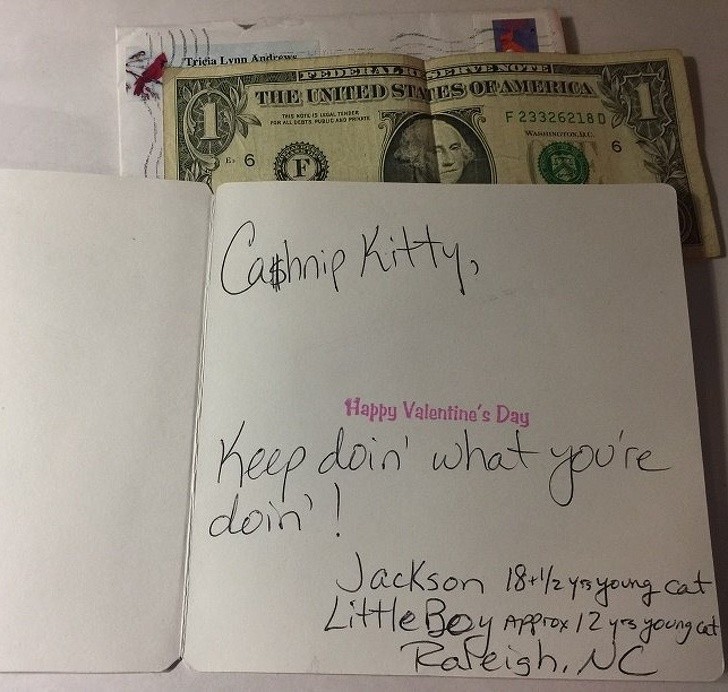 And this how a cat has managed to become a charity fundraiser and help the homeless in the local area, simply by following to his natural instinct for playing and hunting!
Advertisement