After being abandoned, a German shepherd puppy found refuge in a city's Christmas nativity display
It is said that at Christmas, we all become better people but, in reality, those who are very negative and pessimistic all year long will certainly not change in a few days and, above all, will not do so only because it is Christmas.
In fact, there are always those who perform bad deeds every day - and there are those who even abandon a puppy dog during the Christmas holidays.
Alone and abandoned by its owner, this dog found shelter during the night in a Christmas nativity display in a city called Cricrùma, in Brazil.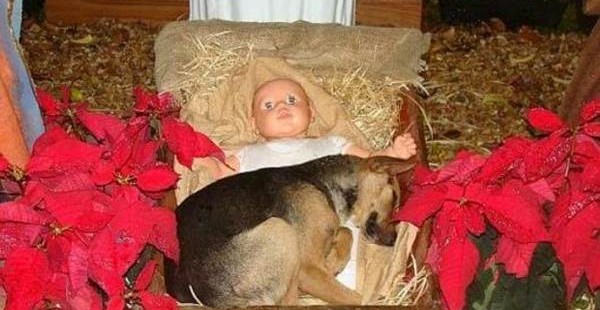 An animal adopted as a pet should never be abandoned. If we encounter difficulties and risk not being able to take care of them anymore, we must remember that there is always an alternative solution to abandonment.
Speaking of owners who abandon their pets, there is an incident that moved an entire city that took place a few years ago in Criciùma, Brazil, precisely during the Christmas holidays.
In that city, a German shepherd puppy was found curled up in the Christmas nativity display, right in the same cradle with little baby Jesus.
Although the episode took place in 2016, every year around Christmas, the inhabitants in the city start to talk again about this lovely story on social media networks.
What better place to welcome a living being than the manger that gave shelter to Joseph, Mary, and little baby Jesus?
A symbolic refuge that, also in a practical way, served to help the puppy dog to feel less alone and to at least find a "cozy" place to spend the night.
A story that has moved and continues to move people all over the world, reminding us how although some people can be cruel to animals, there are also others who are compassionate and who help many abandoned animals find shelter and eventually a new and loving family.