Doggie daycare recreates the nativity scene using a dozen impeccably behaved pooches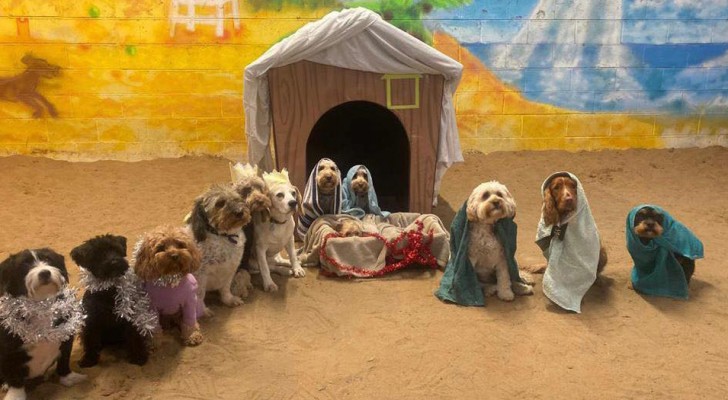 Advertisement
Living with one or more pet dogs is a wonderful thing, but sometimes our four-legged friends can suffer from loneliness or act up when we are away from the home. For this reason, throughout the world, kindergartens (doggie daycares) for dogs were created. And a facility like this in Great Britain also offers training services. Additionally, at this facility, the doggy kindergarten spent the whole year practicing for a Christmas photo shoot with the dogs as the stars. The results were so amazing that the photos immediately went viral on the web.
Advertisement
With the help of the staff from the "Daycare 4 Dogs" - the name of the doggy kindergarten located in Manchester, UK - a dozen dogs - including a Cocker Spaniel, a Beagle and a Schnauzer - were sat down and posed for some photos while wearing paper crowns, tinsel and old tea towels. The stable they were posed in front of was handmade and there was even a puppy dressed up as "baby Jesus" peeking out of the manger.
Ms Emma Billington, owner of the facility, said the "iconic" image of the nativity scene demonstrates how incredible her staff and the dogs are: "I hope this spreads some festive cheer," she commented. She continued: "It's a big challenge for the pooches to put on accessories like headphones or towels and strike a pose for a few seconds. We train for this all year round, so it's no fluke. They've gotten used to it and it's part of their daily routine. We just thought it would make our customers laugh and bring a smile to people's faces."
Advertisement
Ms Billington stated that the owners of the dogs in the photos love this unique Christmas idea and everyone gets a good laugh when they see the final product.
"There's nothing better than spending the day with the dogs and seeing them do all sorts of things," commented Mrs Billington: "It's really about seeing them being happy. Our motto is 'improving dogs' lives', and it's what we want to strive for every day. They are so intelligent and clever that, in the end, they are the ones who teach us so much!"
Advertisement