A homeless man is hospitalized and his 4 little dogs wait patiently for him at the hospital entrance door
The experience of being admitted hospital is almost always rather unpleasant, both for the patient and for the relatives and friends who wait bravely for good news from the doctors.
Therefore, it is very common for a nurse to give medical updates to relatives and reassure them about the patient's condition to try to comfort them.
It can also happen, however, that some very unusual friends also wait for good news at the entrance to the hospital.
Such is the case of these four little dogs that waited impatiently to see their owner, a homeless man who lives in the neighborhood near the hospital.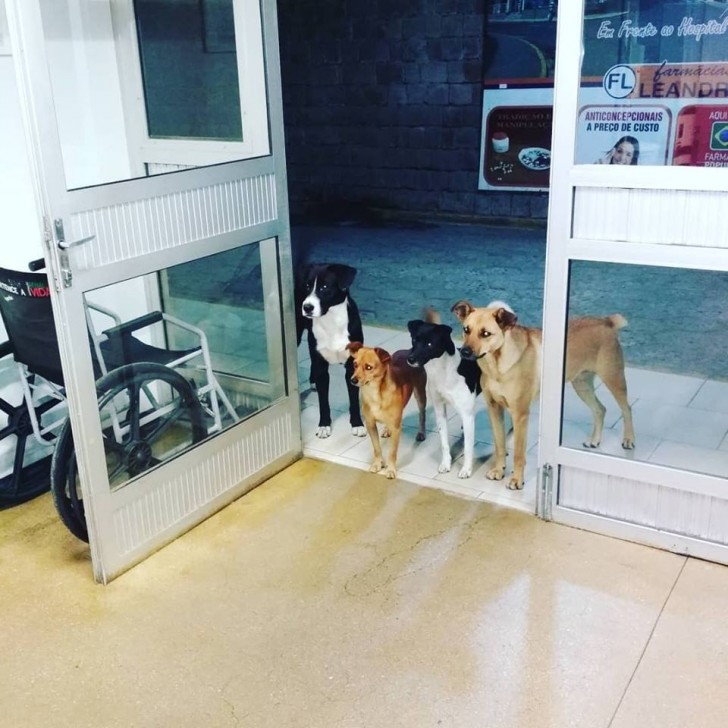 Cris Mamprim was on duty at the Regional Alto Vale hospital in Rio do Sul, Brazil, when a homeless man named Cesar arrived asking for help at 3:00 o'clock in the morning.
The man immediately received the necessary care, but what attracted the nurse's attention the most was another scenario! The presence of four well-groomed dogs settled in front of the hospital doors as if they were waiting for something.
Or someone! In fact, almost immediately, the hospital employees realized that they were Cesar's dogs, the homeless man who had just arrived for emergency treatment.
From the photos, it is also clear that the dogs, in addition to being well kept and fed, are seriously worried about their owner and this demonstrates how strong the bond between a pet and its owner can be.
In fact, dogs do not care about the kind of life you lead, whether you live in luxury or if you also struggle to have a roof over your head - they will love you anyway, showing you true loyalty and unconditional love.
All the dogs were very polite and obedient all the time that Cesar was in the hospital. Moreover, all the nurses were very impressed by the reaction of the dogs when they finally saw their owner was feeling much better.
Although Cesar may not have a house, he certainly has a family that loves him.