This police officer sees a homeless man in the street and helps him shave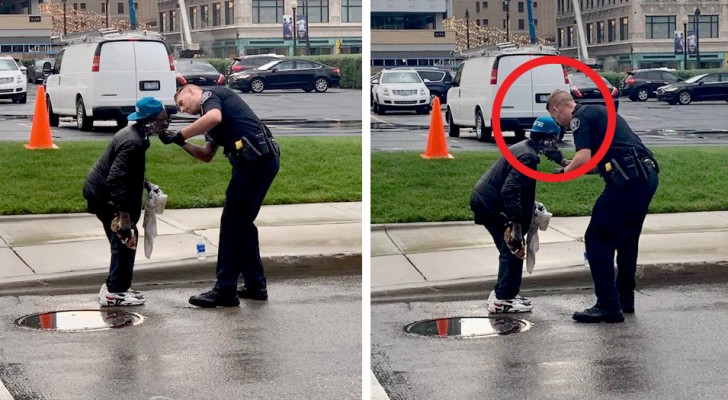 Advertisement
In the US city of Detroit, something extraordinary happened, just outside a ballpark where the Detroit Tigers and the New York Yankees were supposed to be playing against each other.
But the long-awaited baseball game did not take place due to the generally bad weather conditions and the incessant rain, which paradoxically allowed this unexpected gesture of generosity to happen.
In fact, it was due to this situation that Stanley Nelson, a 62-year-old American homeless man, became the protagonist of this story together with a very kind police officer.
Advertisement
Outside the Comerica Ball Park in Detroit, the police officer Jeremy Thomas realizes the difficulty of a homeless man to give himself a decent shave while living on the streets.
But, thanks to a nearby drain spout and the rain, the homeless man, Stanley had a way to shave, so he had armed himself with a bottle of water, shaving cream, and a disposable razor.
In order to help the homeless man, the police officer approached him, but the later was afraid that the police officer was there to drive him out of the area.
But instead, Jeremy assisted Stanley by helping him shave properly right there on the street.
The unexpected gesture of kindness by police officer Jeremy Thomas took the poor homeless man, Stanley, who was in difficulty, completely by surprise.
And so he profusely and repeatedly thanked the friendly police officer for what he had done in front of everyone and for not thinking about any possible negative comments from his colleagues or people passing by on the street.
And now, the gesture of the police officer with a heart of gold has also inspired other colleagues to do the same thing with other homeless people in the city of Tallahassee in Florida.
It is wonderful to see these beautiful gestures that connect us with the kindness and generosity of the human spirit!