This elderly man has built a train for all the stray dogs he has saved from the streets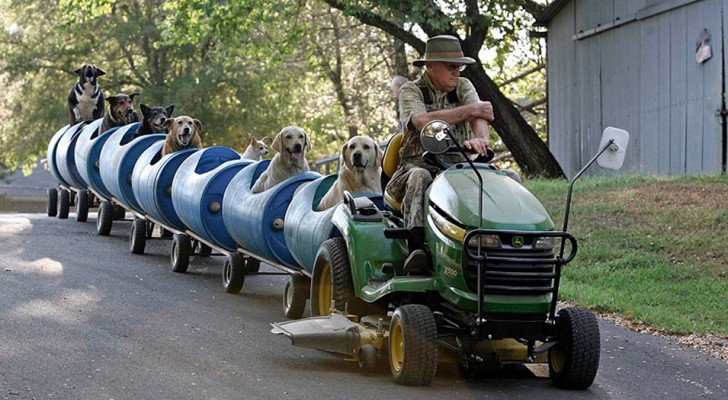 Advertisement
When you have a passion for animals, creativity, and free time, the opportunities to have fun doing something good for others never end.
Eugene Bostick, an American from Texas, is retired and he has plenty of free time at his disposal!
As a matter of fact, at 80 years of age, he has built what we could call "the most beautiful model train in the world".
Furthermore, this is not just any train and its passengers are not just any passengers!
In fact, this very kind and generous elderly man wanted to build this special vehicle to give train rides to the stray dogs he has saved from the streets.
via My modern met
Advertisement
What this nice 80-year-old retiree from Texas has done is a noble gesture that warms the heart.
The fact is that Eugene and his brother Corky happen to live on a dead-end street where people often abandon their dogs.
That is how the idea of the train was born. In the beginning, Eugene and his brother started welcoming the abandoned dogs and just feeding them.
Then, slowly they began to provide medical care and have them castrated or sterilized.
Advertisement
A skilled welder, Eugene decided to build a "train" so that he could take "his" dogs on fun trips around the neighborhood and in the nearby woods - all of them at the same time!
All Eugene needed were some large plastic drums, from which he made the seats and a base with wheels that he then welded on each of the drums. In front, pulling the "dog train" is a small garden tractor with obviously, Eugene at the wheel.
The elderly man said that the dogs literally go crazy with joy whenever they hear him hook up the tractor to the "dog train"!
It is clear that Eugene must really love animals and this story comforts and reassures us that people like him still exist in the world.
Advertisement