A single dad buys an old bus and turns it into a wonderful home for his daughter and himself
In life, there are only two kinds of possible attitudes; waiting for things to happen on their own or acting to inspire events.
Adam Collier, a 42-year-old carpenter from Brighton in the UK, is certainly a staunch supporter of this second attitude or behavior.
As the single father of a teenage daughter named Devan, together with her, he shares a passion for surfing and also the dream of owning a mobile home to so that they can tour all the various beaches in the UK together.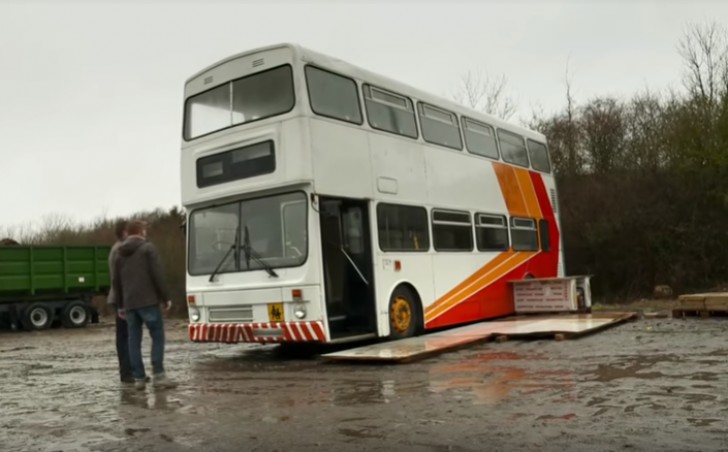 The day that Adam set his eyes on an old double-decker bus that had been retired from active service, he realized that the time had come to make his dream come true.
The double-decker bus was a vehicle that was still in excellent working condition but that would require a total restyling as far as its internal structure was concerned.
Being an independent professional carpenter capable of doing all the work independently, Adam decided to do everything with his own hands after setting a budget of around 11,500 EUR.
The idea was to realize their project without the help of anyone else and above all without spending an exorbitant amount of money!
The restructuring of the vehicle and its reconversion into a mobile home was a real challenge, especially as regards the distribution of the weight load and the organization of the internal space.
Nevertheless, day after day the internal frame began to take on shape and substance, between moments of fatigue and satisfaction, for every little goal achieved.
As a skilled and competent craftsman, Adam placed the dining room on the lower level, along with the kitchen, bathroom, and larger furniture.
To ensure a warm and welcoming environment, he installed insulating materials and interlocking wooden planks that also provided an excellent aesthetic effect.
Upstairs, he managed to create three bedrooms for a total of 6 beds, including a bunk bed in the back.
Adam tried to salvage some of the bus accessories to preserve the style and setting typical of a London double-decker bus, attaching panels or blinds on the windows to be opened if necessary to let in more light.
Being a structure that extends in length, the highlighted features are the aisles that are sectioned by sliding doors that allow access to the different rooms and keep the living areas in order.
Unfortunately, to complete the entire restructuring project, it was necessary to go a bit over the initial budget and the total cost was a little more than 17,000 EUR.
All in all, this is definitely a more than reasonable price compared to what it would have cost to buy a house or a super-equipped camper van. So, now Adam and Devan are ready to go on tour around the UK ... chasing waves!