A simple 52-week challenge to save $1530 USD to spend at will
Even if it is said that "money does not guarantee happiness", money is still one of the first thoughts in the minds of everyone when an unexpected event happens such as a car problem or a sudden toothache.
All these things require a financial disbursement that is not insignificant, so much so that the savings from our daily work could be consumed in a short time.
It is always beneficial to have a good sum of money put aside to use on these occasions, but we all know how difficult it can be to save money. Fortunately, there is a 52-week savings plan!
Advertisement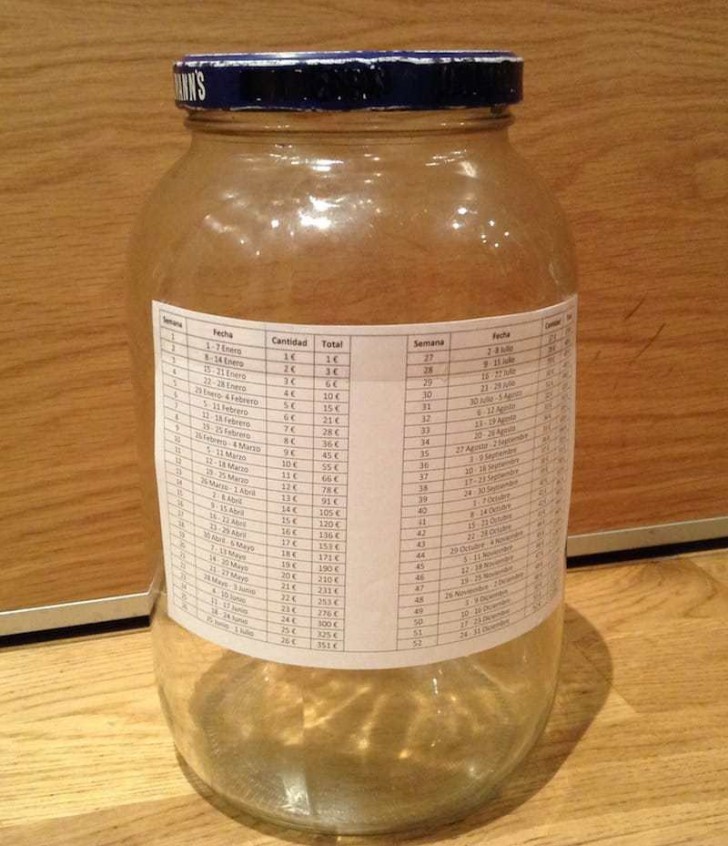 The desire of every worker is to be able to put aside a nice stash of money to be used in cases of emergency or to satisfy a personal whim after years of hard work.
With the savings method that we will now explain, it is possible to set aside up to 1,378 USD/EUR in 52 weeks, about a year of sacrifice. Of course, it is a challenge for anyone who embarks on this path, but it is also a way to face difficult moments with fewer worries.
What you need is a jar, a label where you can print or write a table and really want to get involved!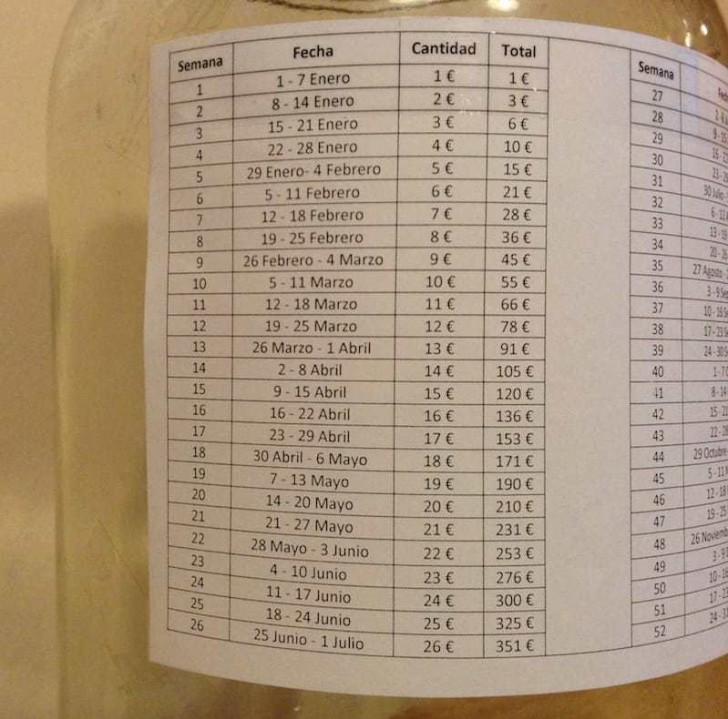 As you can see from the images, the table consists of 4 columns. In the first, is the week number, the second is the time frame within which to reach the target, the third is the amount to be inserted and the fourth is the total saved up until that day.
Although with the progress of the weeks it becomes increasingly difficult to put aside the sum expected, it is not impossible to succeed in the enterprise!

Even though, during the last month, the total amount required to put aside is about 200 USD/EUR which is a trifle if we consider the final amount saved!
Advertisement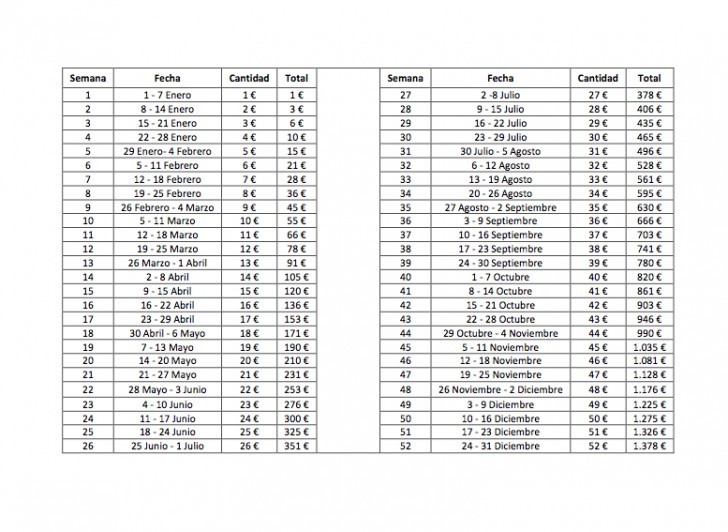 Obviously the table can be customized according to the needs and the sum that you want to put aside. For example, if you want to save money for an exceptional expense, you can change the numbers every week or even shorten the period!
This is a great way to save money as well as being useful for teaching children about the value of money, management, patience, and the sacrifices that must be made to purchase something that is strongly desired!

So arm yourself with a jar, print a label, and create your own weekly savings plan, thanks to this practical method!