Some hilarious situations that can occur only in an airport waiting room!
1. Attention! Don't trip over the puppy dogs in the waiting room!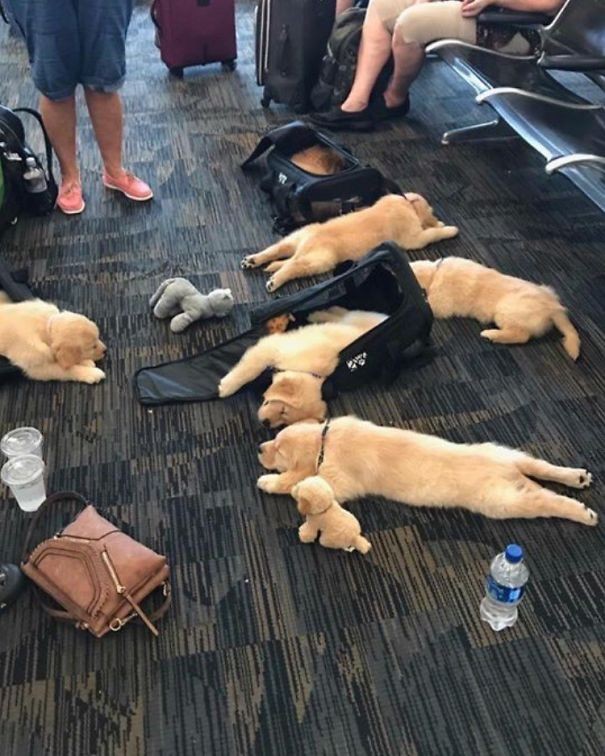 2. She lost sight of her husband only to find him in the children's area, absorbed in the Pixar-Movie Marathon!
3. This pilot wanted to play a practical joke. Or at least we hope it's a joke ...
4. How to recognize your baggage instinctively
5. Do some of your work while having fun
6. Meet your soul mate by accident at the airport
7. Keeping an eye on the airline ticket agents --- the new frontier!
8. When the emergency phone does not work, clearly it is better not to have any emergencies!
9. This gentleman was watching "The Avengers" on his laptop when he suddenly realized that he was not the only spectator!
10. Whoa! This is really customizing your baggage!
11. He went to pick up his daughter at the airport dressed in a very original way ...
12. Harry Potter's Severus Snape actually exists and works at American Airlines!
13. He wanted to take a selfie but had not turned the camera towards himself; someone, however, was already ready for the shot.
14. When he was dressed, this young boy did not know that he would meet a Victoria's Secret model at the airport; yet never was a t-shirt more apt
15. If there is a God, he is very self-ironical!
 16. Finding your own doppelganger at the airport was not a pleasure. For neither one of them.
17. A canoe team that does not miss an opportunity to practice or have fun
18. Trolley bags for kids
19. This dog decided to give birth in the airport waiting room!
20. Forrest Gump has stopped running and this time he prefers to fly
21. The illustrated chronicles of Dads who fall asleep at the airport
22. When waiting is based on pure faith!
23. Mothers face courage challenging tests at the airport.
24. And if your baggage weighs too much, and you do not want to pay the extra baggage fees, do as they did ...