This young artist was born without hands, but still manages to create incredible works of art
Being born with a disability or acquiring it over time is objectively very difficult, but this does not mean one has to renounce life completely.
In fact, finding a solution to small but important daily problems is what leads to enjoying the satisfaction of overcoming obstacles no matter what.
This opinion is shared by the Polish artist Mariusz Kedzierski, who was born without both hands and despite this disability has managed to find a place in life, to go beyond the disability and to emerge victorious in his daily battles.
He is Mariusz Kedzierski, 23, of Polish descent. He was born without his hands, but he has still managed to fulfill his dream.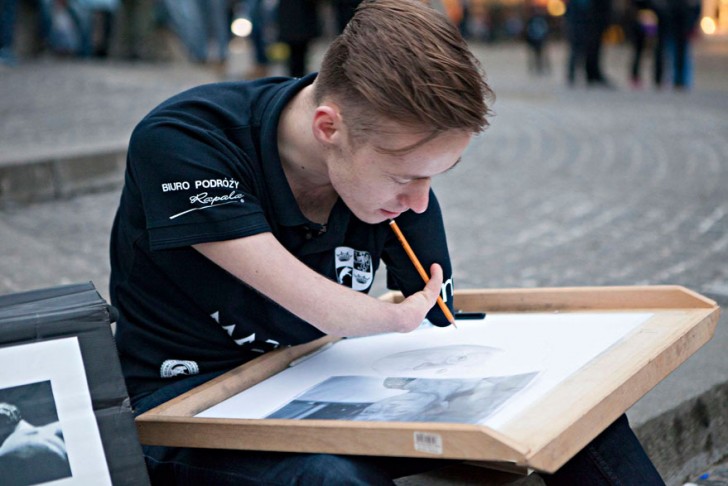 Since he was a child he showed interest in art and by training day after day, he became a hyper-realistic artist.
His works are extremely detailed and most of them are portraits.
As he himself says: "In my art, there is nothing special, except for one thing --- I was born without hands."
 In fact, Mariusz is not the only hyperrealist artist but nobody like him has had to face such a great difficulty like not being able to use their hands.
Mariusz has shown his drawings works all over the world starting from his homeland, Poland.
Often he happens to draw his subjects directly from the street, because he is aware of the positive message he can send to all those who feel they are being forced to surrender to the obstacles of life.
Mariusz is undoubtedly a source of inspiration. In fact, just to see how this young man has put all his efforts into realizing his dream and not allowing his disability to limit him, is a life lesson for all of us.
In 2013, he won second place as the "Best Global Artist" an important award.
Never lose heart and, if necessary, rediscover your strength by taking inspiration from people like Mariusz!