The pictorial skills of these contemporary artists are simply spectacular!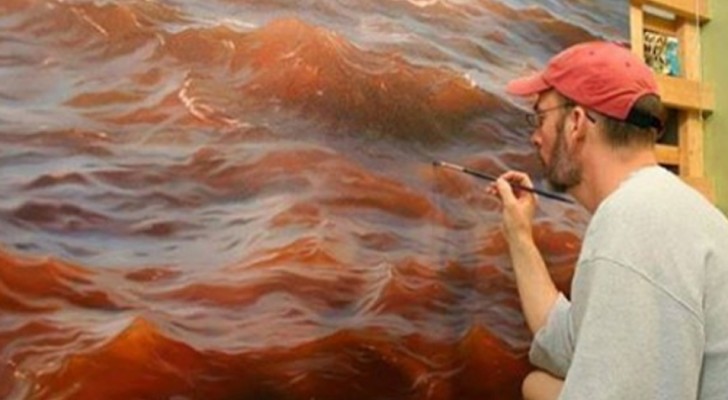 Advertisement
It may just be our impression but in recent years hyperrealistic art seems to have experienced a period of increased interest and importance.
The artists who dedicate themselves to hyperrealistic painting seek perfection in colors and techniques that lead the human eye to be tricked by the beautiful deception of a painting that looks like a photograph but instead is the result of great pictorial knowledge and skill.
Here in this photo gallery, we have collected some of the incredible works of several of these formidable artists.
Advertisement
Gregory Thielker
It seems impossible but what you see is really a painting, more precisely an oil on canvas painting. In fact, in one of his series of hyperrealistic paintings, "Under The Unmindful Sky", artist Gregory Thielker reproduces rainy landscapes as seen through the front windshield of a car.
Diego Koi
Diego Koi's work could be compared to that of a printer because he starts from a corner of the canvas and then fills it up using only pencils and charcoals on paper or wood. It can take up to 200 hours to complete one of his works.
Advertisement
Roberto Bernardi
We continue to see a very high level with the hyperrealistic work of Roberto Bernardi. In fact, the only way to convince yourself that what is before you is not a photograph is to watch him as he paints it!
Omar Ortiz
The strength of this artist is his ability to know how to integrate colors, light, and shadows. With his artistic skills, Ortiz is able to reproduce almost any part of the body in an incredibly detailed and convincing manner.
Advertisement
Gottfried Helnwein
Gottfried Helnwein is quintessential as an all-around artist who loves painting, photography, sculpture and pencil drawing. By the way, Helnwein is one of the few hyperrealistic artists to use watercolors.
Kamalky Laureano
Also for this artist, from the Dominican Republic, the intent is to get as close as possible to reality. Kamalky Laureanoìs paintings are almost all created with acrylic colors, which allow him to achieve this particular effect.
Advertisement
Robin Eley
This London artist, Robin Eley, has an incredible skill in using oil colors. He especially loves to portray human bodies.
Vincent Fantauzzo
This Australian artist Vincent Fantauzzo's paintings are known all over the world. The subjects of his paintings are often poor people, whose faces are marked by the suffering they have experienced.
Advertisement
Matthew W Cornell
For the hyperrealistic artist Matthew Cornell, his reference must be to the extraordinary work of the Russian artist Ivan Aivazovsky, considered the king of paintings that have the sea and the waves as their protagonist. Also, in this hyperrealistic painting, Cornell's skill and mastery are incredible!