People and bizarre animals in the subway --- 17 incredible images from all over the world
1. New York --- these two strangers decide to toast their new friendship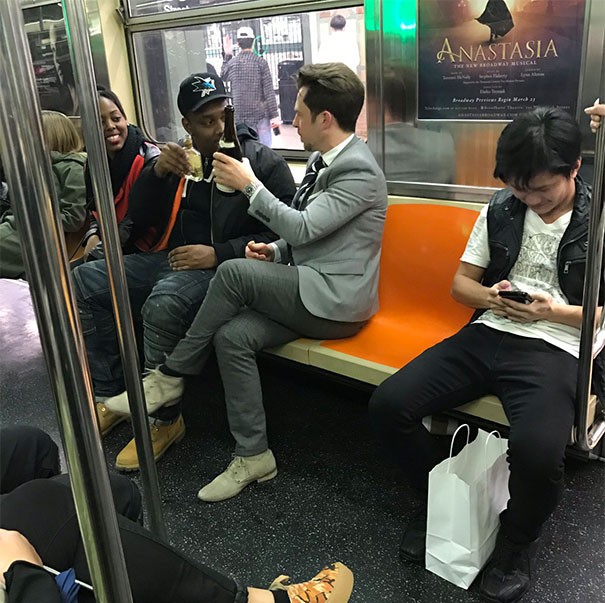 2. This lady has chosen a very particular head covering, but, hey ...different strokes for different folks ...
3. Dogs are not allowed unless you can carry them in your bag ... and this guy has figured out a way to do it!
4. Who would have said that they would encounter each other in the same subway car?!
5. See?! That's why I don't take the subway anymore!
6. Do animals really resemble their owners? Apparently ... Yes!
7. This street musician stopped and played all the time in front of a little girl to stop her from crying!
8. The author of the photo writes: "There is a lot of tolerance, love, and passion in the universe --- all we have to do is just look around us to see it."
9. Not just people and animals! Pikachu also takes the subway!
10. Again, another huge dog, stuffed in a carryall bag ...
11. Cooking at home? Nobody has time to do it!
12. Not just people and animals, but also rare and mythical characters
13. Something tells me that he is not exactly at ease
14. When you live in Asia, you have to expect anything ...
15. It is also possible to see situations like this while you are riding on the subway ...
16. This man takes his hamster with him to work!
17. When you want to hide your cat and try to pretend as if nothing is wrong.