An easy recipe for a delicious salty Zucchini Cake!
This recipe is great for breakfast, lunch, a snack, or for any meal that comes to your mind. It is delicious both hot and cold and there are many variations that you can create from this same basic recipe. Today we propose one with cooked ham combined with cheese and zucchini. Let's see all the ingredients are needed ... 

INGREDIENTS: 
200g zucchini 
3 eggs 
2 teaspoons salt 
1 teaspoon sugar 
40g grated Parmesan cheese
150g milk 
120g sunflower oil 
50g potato starch
250g flour 
1 packet of instant dry yeast for pies and cakes 15g 
100g cooked ham cubes
100g Emmental cheese cubes 

Cover image: Youtube
1. Grate the zucchini so that it looks the same way it does in the image.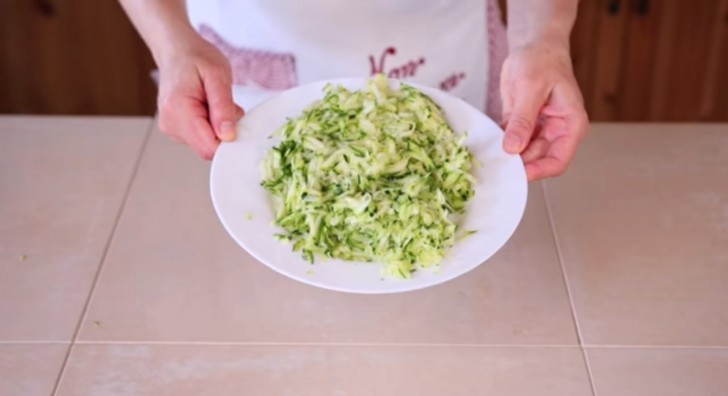 2. In a large bowl, first, break the eggs, add salt, sugar, parmesan and then start stirring.
3. Next, add milk, sunflower oil, potato starch, and zucchini and mix while adding the flour a little at a time.
4. Now, add the yeast and mix again, then insert the cooked ham and Emmental cheese cubes and mix again with a hand spatula.
5. Line a round baking pan with parchment paper and pour the dough mixture into the pan making sure to level the dough. Bake at 180°C (350°F) for 40 minutes.
6. Now here it is --- ready to eat!
In the video tutorial, you can find some other recommended variations!