Delicious Christmas tree sandwiches!
Are you looking for something different to serve at your Christmas dinner? Is your child's birthday coming soon and you have decided to organize a party at your house? 
With this simple recipe, you will pleasantly surprise everyone and be able to make even small children eat something that is healthy and good for them.
Just procure some molds in the form of stars in different sizes and prepare a simple combination of ingredients. Here are our three proposals!
1. Place the various star molds of different sizes on the slices of bread.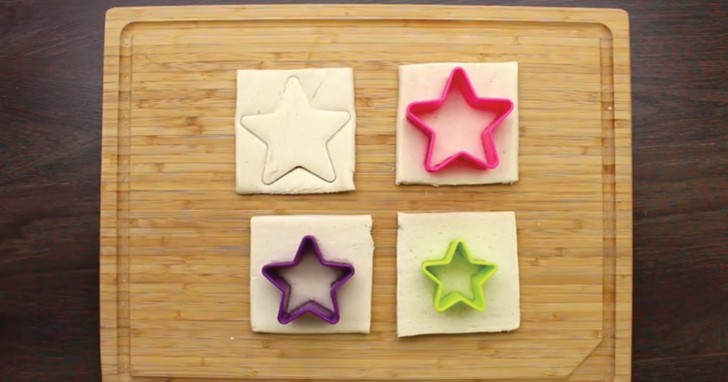 2. With the smallest star mold made three small cheese stars to place on top at the end of each tree composition.
3. Prepare the first tree by first spreading butter on the bread stars then add a slice of salami.
4. Complete with a leaf of lettuce and an olive. Then, after you have prepared each star, using one long toothpick, stack them starting from the largest to the smallest.
Attention --- the smallest star should be stacked on top in reverse (with stuffing inward and the bread outward).
4. For the second type of tree we propose combining butter, tuna, tomatoes, salad and olives.
5. The third type is very tasty --- mascarpone, Gorgonzola cheese, and walnuts (always with a leaf of lettuce and an olive).
Once you have stacked all the bread stars you can add the cheese "Christmas Star" that you prepared in advance (or you can do it after you have finished the trees). See here the beautiful results!
Watch the video to see how to make this recipe step by step!