7-year-old boy can't hold back tears at the sight of a new puppy: "from now on I'll be your best friend" (+ VIDEO)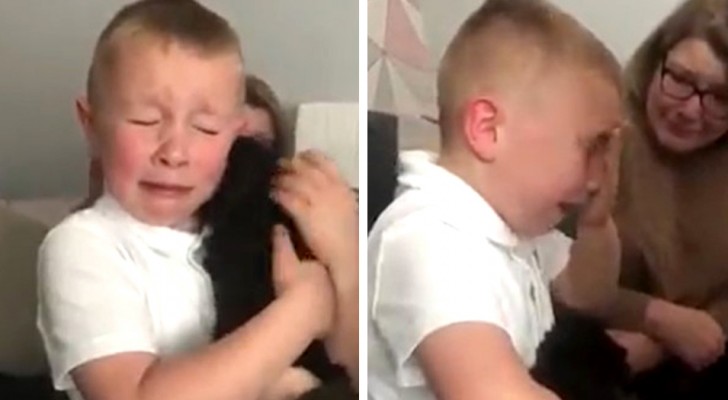 There are times when you need to feel that your loved ones need you - perhaps a kind gesture, with a word of comfort or with a little intimacy. The subject of this story, after a difficult week at school, felt a little down and was in need of attention.
The child's grandparents found a way to make him feel happy again and gave him a surprise that left him speechless. Let's find out together what it was:
via Rebecca Sparkle Browne /Facebook
Advertisement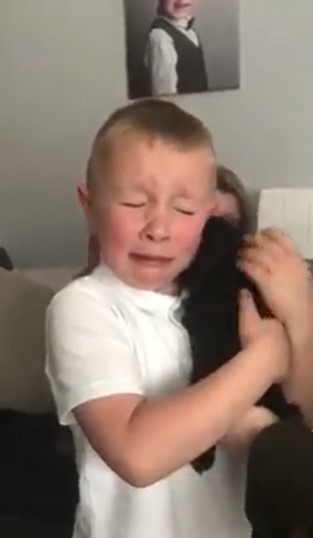 Rebecca Sparkle Browne /Facebook
Jensen Stuart is a 7-year-old boy from Doncaster, England, who touched the entire web with the emotional reaction he had at the sight of a gift he received from his grandparents. The moment was captured by them and shared by his mom, Rebecca Browne, on social media.
In the images, we see the child returning from school. In the living room, Jensen greets his grandparents and notices that a gift box for him is resting on the floor. "Guess what?" says the grandfather while he is filming the scene. "Me and your grandmother have brought something for you". Intrigued and encouraged by the two, he approaches the box, opens it, and is amazed to see a small puppy dog inside. A black ball of fluff for which the child runs to thank his grandmother, throwing himself into her arms.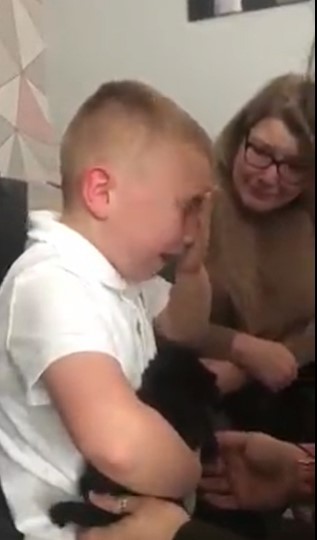 Rebecca Sparkle Browne /Facebook
Meanwhile, mother Rebecca takes the puppy out of the box and hands it to her son who, overjoyed, cannot hold back his tears. The joy and gratitude felt towards his grandparents overwhelmed little Jensen. Then, the child introduces himself to his new four-legged friend and says: "Hi, I'm Jensen - from now on, I'll be your best friend".
This is a truly moving scene that reminds us how easy it is to make our little ones happy. Many times we do not know what to do - we go in search of the perfect gift, a precious object or who knows what else, when, in fact, it takes very little to make our kids happy.
Advertisement
For Jensen, we are pretty sure that little Buddy - the puppy's name - will make a perfect, loving companion in the years to come.