This girl has uncombable hair syndrome (UHS): "up to the age of 12 months her hair was normal, but then it took on a life of its own"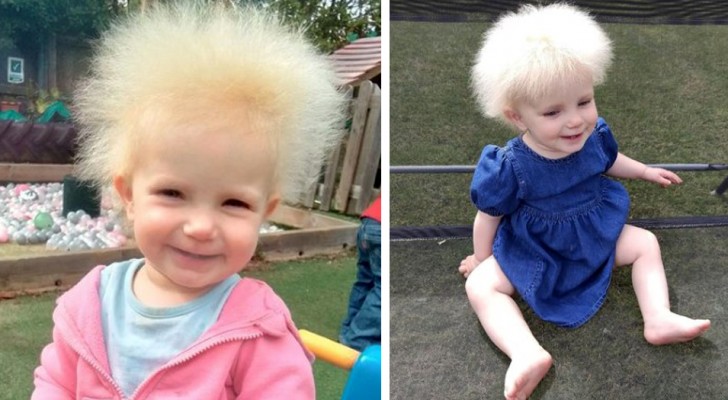 Advertisement
Doing one's hair is something that makes one feel good. When we go to the hairdresser, we feel pampered and, once cut, we look even more beautiful. Almost everyone feels this, but did you know that there are people who cannot "tame" their hair? We are not talking about spiky hair or impossible-to-style curls, but about a real medical syndrome that affects only very few people in the world. To date, there are only about 100 cases in the world, and, perhaps on the upside, it means the sufferer will never have hair loss later in life.
Certainly, this hair syndrome makes little ones look very cute. Layla Davis, a 17-month-old girl, who looks like a cute little lioness, knows something about this hair condition. Here is her story:
via Mirror
Advertisement
Layla Davis, a 17-month-old girl living in Great Blakenham, Suffolk, has a very special condition: her hair is impossible to control or to brush. That's right: this little girl is affected by a medical pathology which, fortunately, does not involve the onset of any other serious health problems. Her blond hair simply cannot be tamed - and no amount of combing or brushing can change this. Layla has Uncombable hair syndrome (UHS), a rare structural anomaly of the hair with a variable degree of effect. It is characterized by hair that is silvery, dry, frizzy, wiry, and impossible to comb.
Layla's mother, Charlotte Davis, 28, said in an interview that her daughter is special because of her hair. "I really hope she will accept herself as she is," she declared. She continued: "I would like to make her understand that she is beautiful and that diversity is not bad. For her first 12 months of life, her hair was very soft. Then came the transformation".
In fact, as the specialists explained, this type of hair syndrome does not usually occur at birth, but arises a few months after birth. Afterwards, most cases disappear quite naturally once puberty is reached.
Advertisement
Given its rarity, Layla's photos, published to her Instagram page - an account managed by her mother, of course - have made this little girl a star. There are many users who have left kind and supportive messages. In all cases, everyone agreed that this little girl is beautiful and it fills one's heart with joy to look at her little face framed by a "ruffled mane".
Do you also think Layla looks like a little, cute lioness?