Young man surprises a street vendor who fed him as a child with a visit and some money: she cries with joy (+ VIDEO)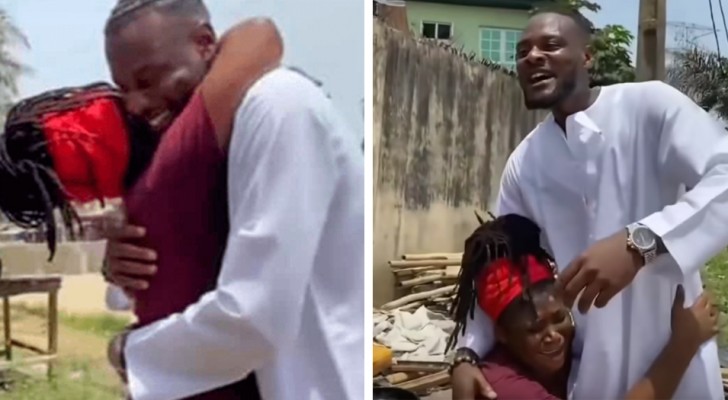 Advertisement
Showing gratitude towards those who have taken care of us is always an admirable gesture, which many children try to show towards their parents. There are those who manage to buy a house for them and those who express it in other ways. But in everyone's life, there are not only just parents to thank: for some, it is another person who has made their growth possible and the possibility of a better life: a nanny for example, or a grandfather, a relative, or anyone who has been present in times of need. For the young man who is the subject of this video, it was a street vendor who fed him when he was a child. Years later, the man managed to track the vendor down.
via TikTok / bashbaby4realnew01
Advertisement
Gratitude is a truly noble feeling, which not everyone is able to demonstrate like they should, unfortunately. This is certainly not the case for this young man, who decided to return to his homeland, Nigeria, to look for the woman who took care of him when he was a child. In the video posted on TikTok, the young man approaches a street vendor who is intent on preparing food. Without saying a word or explaining who he was, the boy removes the pan from the fire and places it to the side; then, he takes the woman by the hand and begins to explain everything. At first glance, the vendor does not recognize him: she does not realize that he is the little boy she fed many years ago. But after a moment, the young man reveals himself and the woman bursts into tears of joy.
She puts her hands to her head, to her mouth, incredulous and excited because the young man had returned to thank her for her past kindness. The woman cannot believe he is in front of her eyes and she cannot believe it when he gives her money. That's right: the young man is so grateful for his "nanny" that he brought her a pile of cash, which causes the woman to cry even louder.
No matter how much time had passed, this young man will always be grateful for his nanny: it is thanks to her that he was able to become the man he is today and everyone should know about this. Just watch the video to understand how strong the bond is between the two - even though they had not seen each other for many years.
Are you always able to show your gratitude?