Company donates £ 1,000 ($1,300) to each of its 86 employees to help them fight rising gas and electricity prices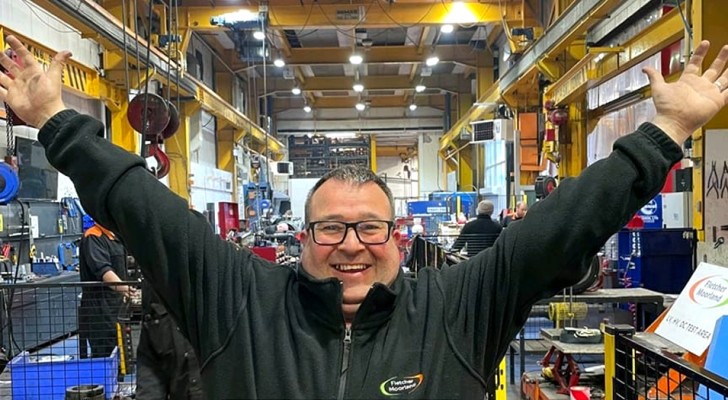 Advertisement
Being a good boss is not easy: managing your employees and treating them with respect but, at the same time, also keeping an eye on the turnover of your company can be challenging. There are those who, however, do manage to deal everything in an optimal way, revealing themselves to be a great leader. Matt Fletcher is certainly one of these, since he immediately considered supporting his 86 employees with a substantial subsidy, after the disproportionate increase in gas and electricity prices. In fact, studies show that the more employees are at ease and well treated, the more productive they will be for the company: it's a mechanism, therefore, that allows for a win-win payoff.
via Facebook / Fletcher Moorland
Advertisement
Matt Fletcher is the head of Fletcher Moorland, an engineering firm that has managed to keep going and survive, even during the repeated lockdowns imposed by the Covid-19 pandemic. To be honest, it was during this period that the company grew, managing to welcome another 18 new employees. These are highly specialized personnel, well paid and are counting on growing market demand in the renewable energy and electric vehicle sector.
Unfortunately, however, it is a fact that the crisis has affected them too. At a time when much of the population is struggling to pay their bills as energy and gas costs soar, Matt Fletcher has decided to help out his 86 employees by giving them a £ 1,000 pounds (±$1,300 dollars) bonus each.
"There is nothing we, as a company, can do about rising fuel and gas prices," Fletcher commented, "but we can do something to help our employees deal with it."
Clearly, the gesture was much appreciated by the employees: "When we communicated the decision to them, the room fell silent for a moment and then they gave the management a standing ovation". All the employees admitted that this total of £ 86,000 pounds ($112,000 dollars) would help each of them immensely. Here are some of the more heartfelt testimonies: "When we were told we were going to get this money, I was amazed," said electromechanical engineer Ian Hunt, 34, of Stoke-on-Trent. He continued: "We had a baby girl, Amber, nine weeks ago and my wife is on maternity leave, so this money will be a big help to cover the cost of diapers and things like that. "
Another employee, John Roe, a 46-year-old maintenance engineer, said: "I recently moved into a new home and the bills have turned out to be a little higher than I expected, and now the price of everything is skyrocketing, so this bonus will really help me out".
A thousand pounds more will certainly not solve the crisis that the population at large is experiencing due to the general increase in prices, but it is are certainly a much needed assist and a really generous act by a company in times of economic hardship.