Stranger finds a desperate mother "living" with her children in the airport bathroom and does everything she can to help them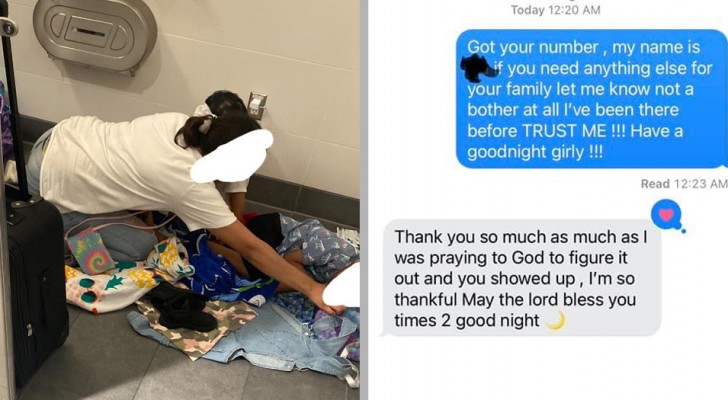 Advertisement
Sometimes, we don't know exactly how to ask others for help, but the people around us can't just guess what our difficulties are. When we feel we cannot overcome a problem that seems insurmountable to us, we should ask for help. If we find ourselves on the other side, however, we should try to discern if someone needs our help. Often, we may feel that we are perhaps interfering in moments that are too private, but, as in this example, if we heard someone crying in the bathroom of an airport, we would have a duty to do something to help.
Cyn Symone had missed her flight to Los Angeles when she walked into the airport toilet and she heard a woman crying in despair. Initially not knowing how to act, she went back and forth to the bathroom 3 or 4 times and, finally, she followed her instincts and intervened.
Advertisement
Cyn Symoné was not at all happy that she had missed her flight - who would be? But that day she understood why it was happening to her: fate had decided she had to be in the right place, at the right time. While waiting to retrieve her luggage, Cyn had gone to the airport bathroom to do her makeup. Here, she clearly heard the sound of a woman crying in despair and the lamenting was coming from inside one of the toilet stalls. The young woman wrote a post on Facebook about her experience in which she said she didn't know how to react at first: "Maybe I should have said something like 'everything will be fine, don't worry', but I was nervous and then I heard the woman speaking in Spanish, so maybe she wouldn't have understood me anyway." Luckily though, Cyn followed her instincts and returned to the bathroom another 3 or 4 times to check on the woman's status while she waited for her bags.
Finally, the woman told her in tears: "My bus won't arrive until tomorrow." Cyn then asked the stranded woman if she had any money or a place to go and she offered to pay for a hotel room for her. The woman then opened the bathroom door and Cyn saw what condition she was in: her children were sleeping on the floor! The woman was in such dire straits that she was "living" in an airport bathroom.
Advertisement
Cyn accompanied the woman and her children to a hotel and paid for her room. She left her phone number and told the woman to call her in case she needed anything. The next day she decided to post her photo on Facebook and share this story, hoping to motivate more people to help others in need. Cyn reflected: "How many other people before me went into the bathroom and heard that woman crying, but did nothing?" Probably many of them preferred "not to meddle" in the woman's private problems, but, by doing so, they had left her to face her desperation alone. If one is reasonably able to help someone else, you shouldn't hold back!
Advertisement