A bride decides to take wedding photos on a garbage truck to honor her husband's job
All jobs should be respected and adequately paid, depending on the service they offer. Unfortunately, nowadays, the prejudices about some types of professions have taken root deeply, so much so as to change the perception of their value. For many, being a plumber, a waiter or a garbage man means doing a humble job: but is this really the case? First of all, there are no humble jobs but, at most, there are humiliating jobs, due to ignorant employers or colleagues, who tend to humiliate others. Secondly, many of these humble jobs offer essential services to the rest of us citizens. Why should an ecological operator feel humiliated in any way? Elisvânia, when she married her husband Luiz Alberto, wanted to shout to the whole world that the love of her life is an ecological operative and that she is very proud of him. That's why the woman arranged to have her wedding photos taken right on Luiz's garbage truck.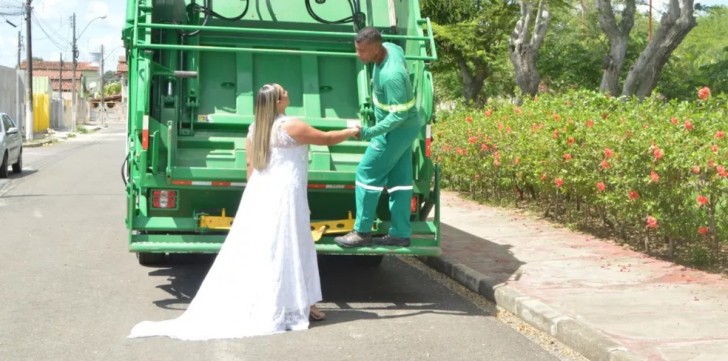 Every day, Luiz Alberto cleans up his city: it's his job and this allows him to put bread on the table. A profession that has been scorned several times in the past, but on which we all depend as we love to see our city looking as clean as possible. In fact, there is absolutely no reason to underrate a profession like the garbage man! Luiz Alberto's partner, Elisvânia, had a great idea in this regard: a photo shoot for her wedding directly on the back of her husband's garbage truck!
Elisvânia had already decided that she didn't want classic wedding photos, in a white dress on the beach or in some beautiful oasis full of greenery, rather a sincere and down-to-earth photo shoot. For the occasion, she chose to praise her partner's profession, as well as being her future husband, he's a man who every day goes around the city with a garbage truck. She's very much in love with her husband and is also very proud of everything he does: "I don't understand how people can look down on his profession in this way."
The bride said: "I was looking for photographic ideas for our wedding, because I have always wanted to have a big day and I've seen that many people pay tribute to their professions, whether it's the girlfriend or the boyfriend. It was at that moment that I realized what was the right thing to do, also because the wedding was on the same day as his birthday".
Obviously the truck was promptly washed and cleaned beforebeing brought in for the photo shoot for these newlyweds. The other employees were happy, precisely because this decision honors their profession, which is too often forgotten and disdained. Yet a garbage man works every day, in all temperatures and on difficult shifts: how can you not respect it?