15 people share photos of their tattoos and reveal their hidden meaning
1. The tattoo represents the eyes and smile of the Cheshire Cat but sometimes you have to look at things in a different light to grasp their meaning.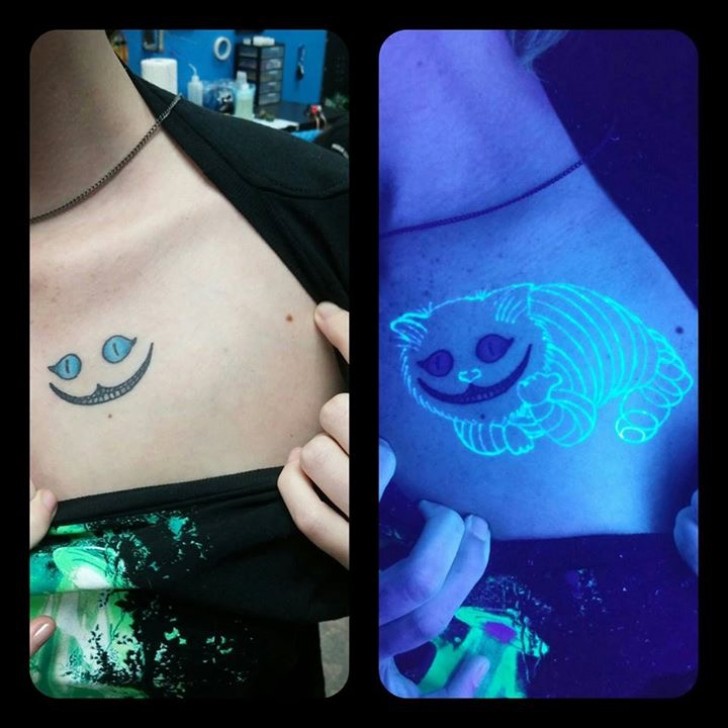 2. It is an ambigram tattoo: depending on the position from which you read it, it takes on two totally different meanings.
3. This is also an ambigram tattoo, but the two meanings are connected to each other: "regret nothing".
4. This girl has decided to tattoo her father's distinquishing features: his mustache and his big glasses.
5. This man designed his tattoo to symbolize support for his wife who was going through a difficult time.
6. His mom often left notes lying around the house for him, so the son decided to reproduce one.
7. This girl got a tattoo of the message that Daddy written in her elementary yearbook: "I'm proud of you. Love, Dad."
8. This girl has decided to tattoo the title of the last book read by her father, and he reached page 128.
9. This tattoo was chosen by the younger brother and represents the bond with his older brother: the two always played with lego together.
10. This girl decided to tattoo the message her best friend once left for her to find.
11. This boy decided to tattoo sound waves representing his father's laughter - a way to carry this joyful feeling everywhere.
12. This woman lost everything and set out to rebuild the house she had lost - she tattooed the plans on her hands as a reminder.
13. This girl and her sister decided to get a tattoo in honor of their father: each swallow has its own meaning.
14. This woman has decided to cover an old tattoo with a diamond: hearts can be broken but diamonds cannot.
15. This tattoo reproduces the cat face drawn by a famous designer and the fur patterning from the guy's own kitten.