15 photos of people who should reconsider what it means to have good taste
1. He thought he was trendy, and even posed proudly for photographs, but the boots are clearly out of sync with the jacket and hat.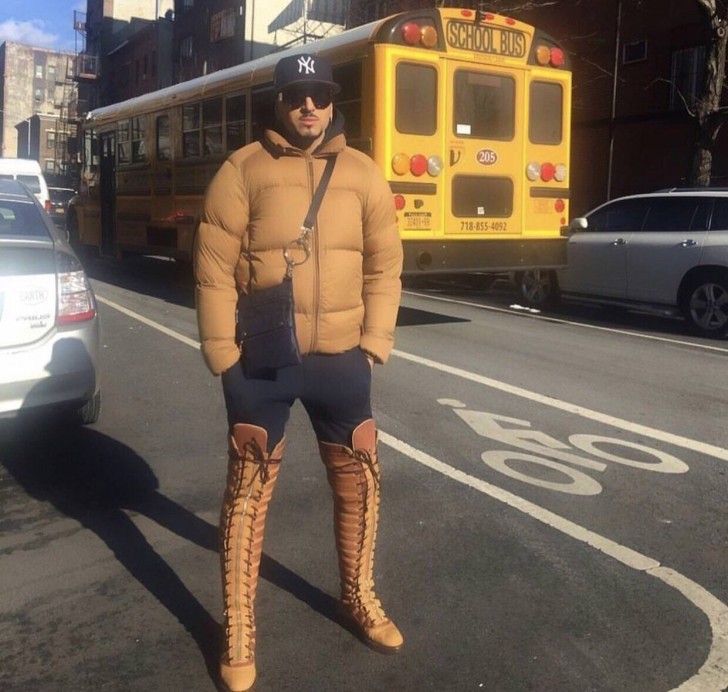 2. Whoever designed the dress didn't realize that the red spots are easily misunderstood, and neither did the person who bought it.
3. We understand it's cold but we really hope this is a joke: the jacket is a little outsized to say the least.
4. He wanted to be trendy, but perhaps you don't want to wear those boots to the gym. Won't it be difficult to train?
5. A handmade ring set with a set tooth. It's certainly not lacking imagination, but is it really worth wearing it?
6. Instead of a shoulder strap or handles, this bag is hand held: it might look romantic but it's not.
7. Crocs are definitely comfortable shoes, but why all the glitter and beads? Are they for a special occasion?
8. High fashion or bad taste? It's hard to believe that such a garment exists, yet this woman seems to be perfectly comfortable.
9. Since when did slices of prosciutto become the perfect patch to cover a tear in your jeans? A little too much perhaps?
10. A bag made with chains and underwear: creativity is not lacking, but to go around with this bag it takes a bit of courage.
11. This woman is keen to have her nails manicured, even those on her feet. But a solid color would certainly have been better.
12. The dog looks frightened: why are there puppy heads on the owner's feet? It would have been better avoided
13. Here the rings set with teeth have made a qualitative leap: there are also gemstones to give some sparkle.
14. An unusual clutch bag (or a coin purse?): It is not clear how the strap was attached to the woman's nails.
15. Maybe they were made for Halloween or they lost a bet, but it must be embarrassing to shake hands like this.