The dog wants to get to it's owner, but the cat won't let him pass: after a few seconds he returns with reinforcements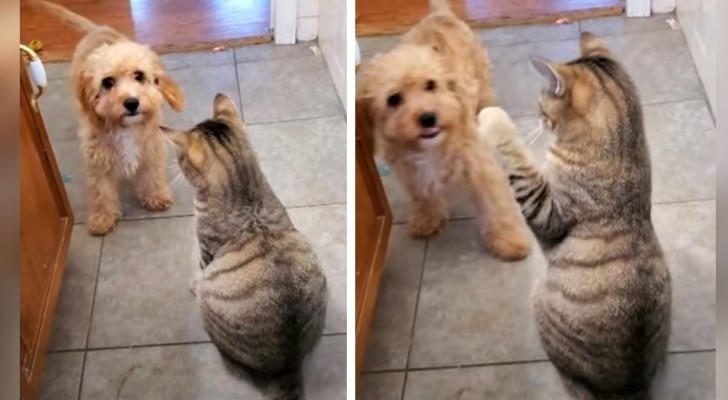 Advertisement
The eternal rivalry between dog and cat is now a myth that has been debunked several times. Despite the great character differences that distinguish the two animals, both have been able on several occasions to prove themselves collaborative and even to become the best of friends. This is not the case with the dog Louis and the cat Marvin, who are roommates in a New York house. Their owner posted a video on social media, which immediately went viral, of her puppy trying to reach her in the bathroom while the cat Marvin openly blocked him. The cat's bravado quickly evaporated when Louis went to call for backup ...
via Youtube / Videlo
Advertisement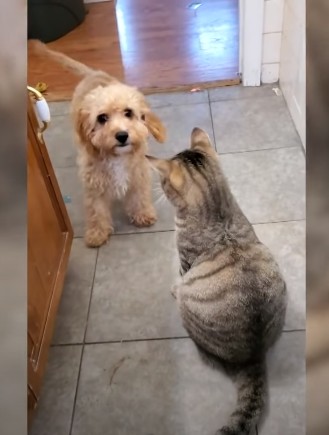 Little Louie, a Labradoodle puppy, just wanted to get close to his beloved mistress who was in the bathroom, but had to contend with the dislike and bullying of Marvin the cat. As you can see from the video that the woman posted, Louie just can't get past while Marvin also throws him a few paw swipes to keep him in his place. The puppy, however, does not give up and although he is smaller and more good-natured than the cat, he is astute enough to get what he wants.
Advertisement
After yet another bop on the muzzle, Louie leaves the bathroom pretending to be defeated, but after a few seconds he comes back with reinforcements: a white dog who is much bigger than him, which immediately makes Marvin turn tail! The scene is really hilarious, because it looks like Louie has gone to call his friend for help.
Advertisement