This 35-year-old single man is a real super-dad: he has adopted 5 disabled children and raises them alone
There are people in the world who truly seem born to do good for others, whatever the difficulties they encounter on their way. We are talking about all those women and all those men who are able, with their generous and disinterested acts, to give better lives to others, a better future, security and a lot of joy.
Ben Carpenter, 35, from Yorkshire, is one of them. What has he done that's so special? Simple: he cannot be described as anything other than a "super dad" for children with disabilities. In other words, he is a single guy who has decided to take on 5 adopted children!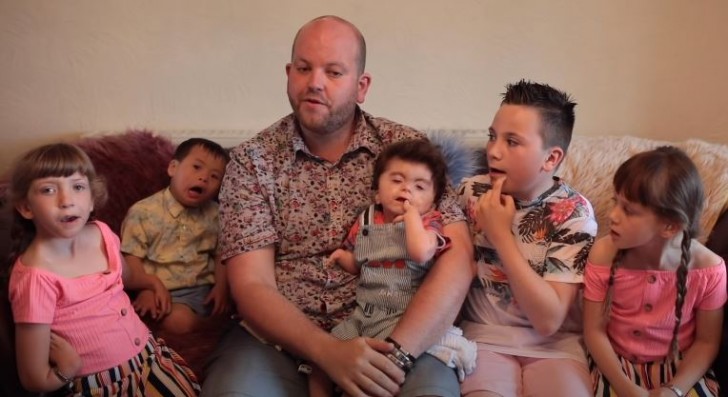 You read that right: at just 35 and happily single, Ben decided that his mission in life would be to be a dad to his wonderful extensive family. At the age of 21, he began to think about adopting his first child. Fourteen years later, his family has grown to 5: Jack, Ruby, Lily, Joseph and Noah, respectively 11, 8, 6, 3 and 1 year old.
All of them need special attention and care, given their disabilities. Ben knows this well, and he also draws on his experience of working in an organization that deals with supporting and helping children and adults with problems similar to his children's. From autism to unusual developmental syndromes, it's not easy to take care of them, but this man faces his wonderful fatherhood with courage and determination, day after day, without ever giving up.
When he adopted his kids, Ben thought foster care services would reject him for not being married, but they didn't and the man was able to take on his fifth disabled child, Noah, who has Cornelia de Lange syndrome, a rare genetic disorder.
"I wouldn't change anything in my life - Ben said, happy with both his job and his family - if in the future another child needed my help, I'm sure I'd end up adopting him. I love being a dad." We don't find it difficult to believe, given the incredible commitment that this generous person has demonstrated. Who knows if one day he will decide to be joined by a partner: for now he is so happy, ready to make literally any sacrifice to protect and heal them. No doubt about it, this is one dad to applaud!