He is 92 years old and still attending university: his dream is to become an architect
Who said that there is a "right" age we must not go beyond to follow our dreams? Conventions, fears, anxieties or fear of the judgment of others may sometimes convince us that it is so, but in reality there are men and women who, with their exemplary stories of perseverance, really manage to shout to the world that it is never too late.
Carlos, the 92-year-old Brazilian hero of our story, is one of them. His venerable age does not prevent him at all from believing in his most vivid desires, and this is why the elderly man decided to ... complete his university studies!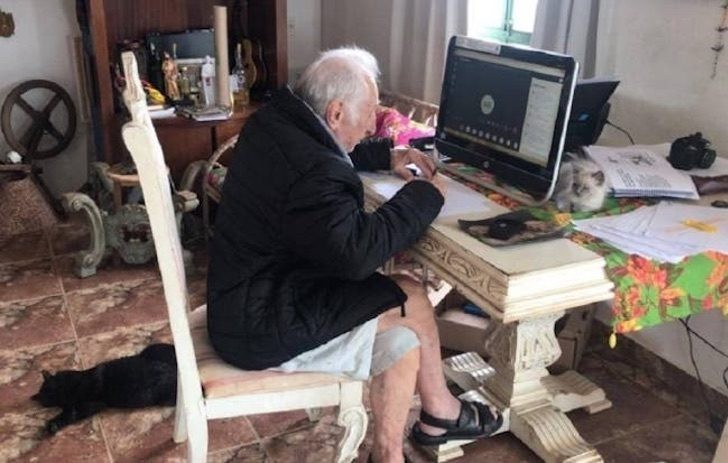 That's right, you got it right: at 92 years old, Carlo Augusto Manço, although he does not have an excellent relationship with modern technology, still dreams of becoming an architect. Not even the Coronavirus pandemic stopped him: this man took lessons online, encountering the difficulties that anyone, at his age, would face. The computer is certainly not his best friend, but that hasn't stopped Carlos.
His desire to become a professional architect is so strong that his mind continues to make room for new ideas, thanks to his perseverance. In fact, it is often said that the brain is like a "muscle" to keep in training, and this man proves it perfectly. After working for years as a designer, Carlos has never given up on his dream of becoming something more.
"It was a bit strange at first to find myself in class with young people - he said - but they treated me well, everyone wanted to talk to me and say hello". The pandemic, which forced many students to take lessons at home in front of the PC, made things more difficult, but certainly not impossible. Carlos's family, in fact, did everything to encourage and support him: his granddaughter has taught him to become familiar with the technology and, day by day, this spirited 92-year-old student manages to complete his university duties.
His story is a splendid example of tenacity and motivation, a practical demonstration that age, at times, does not matter, if you follow what you want with passion and dedication.