Baked zucchini roll-ups: perfect for the summer season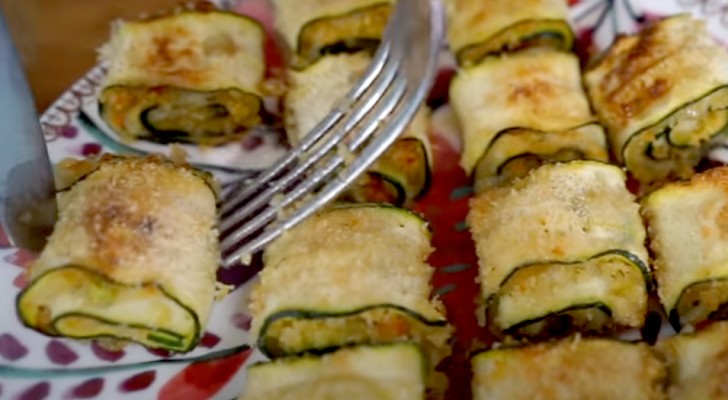 Advertisement
As summer time is on its way, everyone's trying to find a way to keep their waistline trim without having to cut back on taste. That's why we've decided to share with you a recipe that has all the components of a typical mediterranean meal, but without all the dreaded calories. They're called "baked zucchini roll-ups" and they are so delicious. In fact, they are so good that you'll find it hard to believe how low in calorie they are! 
via Cucina Geek
Advertisement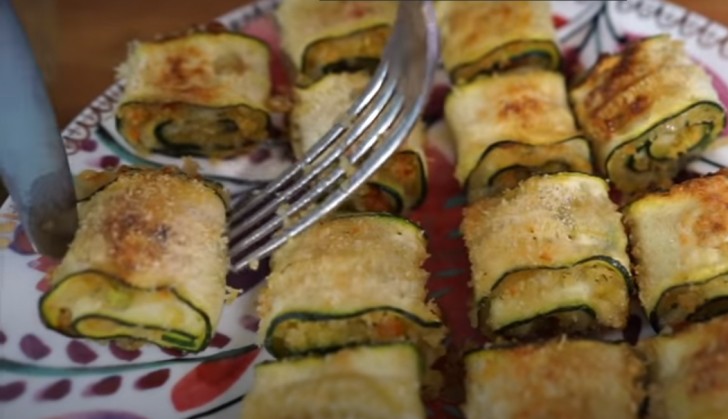 Ingredients:
4 medium zucchinis
half an onion, diced
1 garlic clove
400 grams (2 cups) of diced tomatoes
750 grams (roughly 27 oz) of ricotta cheese
70 grams (2⅓ cups) of spinach
1 egg
80 grams (4/5 cup) of parmesan cheese, grated
200 grams (8oz) of mozzarella
extra virgin olive oil
salt and pepper
fresh basil
oregano
Wash and cut the zucchini into thin slices, longways. Sprinkle salt on top of them and leave them rest for about 10 minutes. Now, take the onion half and dice it into very small pieces. Once finely diced, transfer the pieces of onion in a pan with extra virgin olive oil and a clove of garlic. Cook for a few minutes. Once the garlic clove turns golden brown in color, remove it and then add in the diced tomatoes. Mix the tomatoes and onion together well, as if you are creating a sauce.
Advertisement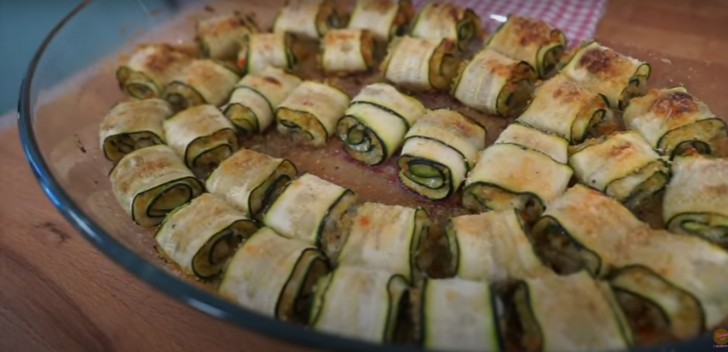 For the cheese filling, take a medium-sized bowl and fill it with ricotta, spinach, egg, basil, parmesan, and half of the mozzarella cheese. Blend the ingredients together with an electric blender (or food processor) until they've reached a homogeneous consistency. Now, take a casserole dish and cover the bottom with a thin layer of the tomato sauce. The dish is now ready to be filled with the zucchini roll-ups.
Next, take the zucchini slices and spread the cheese-filling you just made over them. Add a layer of tomato sauce and then roll them up (just like you see in the above photo) and place them in the casserole dish. Pack the dish as tightly as you can. Last but not least, pour the remaining tomato sauce over the zucchini roll-ups. Add the remaining mozzarella to the top and then sprinkle the entire dish with more parmesan cheese. Place in the oven for 45 minutes at 180°c (350°f). Take them out of the oven once you see a nice crispy layer of cheese form at the top.
Zucchini roll-ups are delicious and easy to make. They are perfect for dinner parties and will have everyone leaving happy and satisfied. Enjoy!
Advertisement