A dog that escaped a fire cannot stop whimpering and to calm him the veterinarian sleeps beside him
The story you are about to read regards an incident involving an unfortunate animal and a doctor with a big heart.
The protagonists are an 8-year-old dog, Taka, and his guardian angel, Emily Garnto Martin, a veterinarian. The two met at the Care More Animal Hospital, a veterinary clinic in Georgia, and they are still struggling together for Taka's life.
There are stories that seem to be already decided from the moment when two sets of eyes, that of an animal and that of a human meet, while others are still to be written and no one knows how they will end.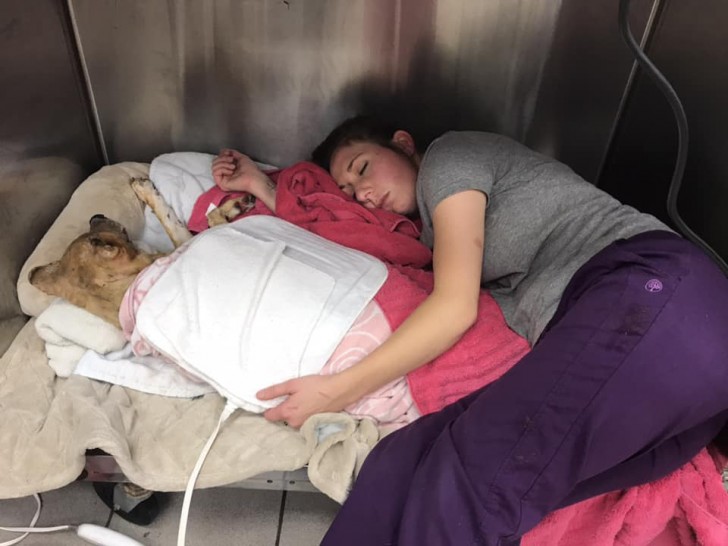 A man brought an 8-year-old male Shiba Inu dog to the emergency room at the Martinez Veterinary Clinic, in Georgia (USA). The dog had very severe burns all over his body and his cries of pain were excruciating.
The poor animal was the victim of a fire in the house where he lived with his owners. The family escaped just in time, but Taka did not manage to get out immediately. A neighbor found Taka on his doorstep and took him to the animal clinic.
At the veterinary clinic, they immediately took care of him, especially one veterinarian, in particular, Dr. Emily Garnto Martin, who also took Taka to her house to take care of him full time.
The image that has been seen around the Internet, is a photo that portrays the two of them sleeping side by side. In fact, little Taka was still suffering greatly and could not sleep because of the pain, but with Emily next to him, he felt protected and could rest.
image:
Care More Animal Hospital/Facebook
This veterinarian could have safely left Taka at the clinic, where all of his medical needs would have been met, but she also understood the importance of the dog's psychological well-being. In fact, it is not only the drugs and medical treatments that allow him to heal but also the sense of safety that the dog feels when he is cuddled.

This unfortunate dog is not yet totally out of danger, but we are sure that with the care and love of this veterinarian, everything will turn out in the best way possible. Meanwhile, on the animal clinic's Facebook page, a fundraiser for Taka's medical treatments was started a few days ago and many people have already contributed to the cause.
In fact, in just six days, more than $2,000 USD has been collected out of the original $1000 USD donation that was requested to pay for Taka's medical treatments. In addition, on the Facebook page, it is also possible to get all the updates about little Taka's health conditions.