Nail care alert! Photos of this girl warn us about the risks of do-it-yourself nail art
Are you among those who wear fake nails from time to time? How often do you go to the beautician to get your nails done? Do you often miss appointments and do your nails yourself? 
Whatever your answers are, this is a story you should hear so that you can take better care of your hand and avoid unpleasant incidents.
Like what happened to the beauty blogger Amelia Perrin, whose story, unfortunately, for her went viral almost immediately.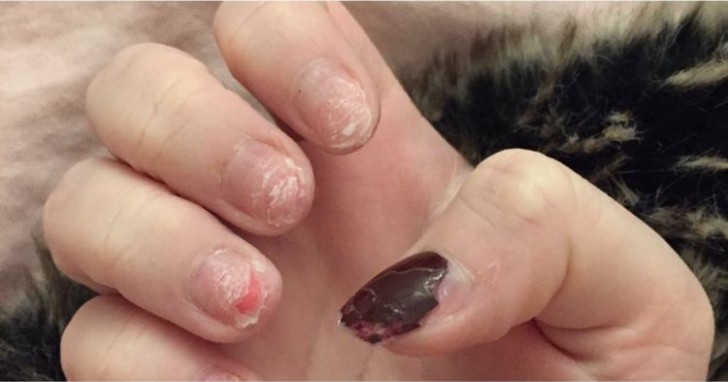 What you see above is the photo of Amelia Perrin's hands and nails that went viral on the Internet after she removed her fake nails by herself. But, wait, you need some context. In fact, Perrin admitted to having behaved a little thoughtlessly. She posted that she has worn fake nails for six years and has let her real nails breathe for only a few weeks in this time frame.
The acrylic materials with which most of the fake nails are made do not allow adequate transpiration of the skin and we should give our hands and nails a rest from time to time.
However, after just one week, the unfortunate blogger was able to get her nails back to looking like a human being's hand. Thanks to a cure of biotin and essential oils, she was able to reconstruct the lost keratin.
Perrin wanted to share her story as a warning to everyone. In fact, nails seem to be one of the most solid parts of our body, but they are very delicate. If we love fake nails, we must be careful to clean them daily to avoid the risk of infection.
Stories like that of this blogger are quite common on the Internet, and if you do not want to be the next person to share a mishap like this ... then take care of your nails and let them be done only by expert beauticians!