Traces of mold in the bathroom? This homemade method removes mold in a simple and very effective way!
We are talking about mold, specifically the mold that forms in bathtubs and showers, favored by the wet and humid environment of the bathroom.
We all know well that sometimes brute force can be counterproductive. In fact, by scrubbing too hard, you risk ruining the layer of porcelain enamel on the bathtub or shower floor. 
That is why we offer you this simple method that takes advantage of the passage of time to remove mold without having to ruin bathroom fixtures.
You will only need some cotton (possibly the type that is easy to shape) and bleach (oxygen-based).
Step 1: Analyze the situation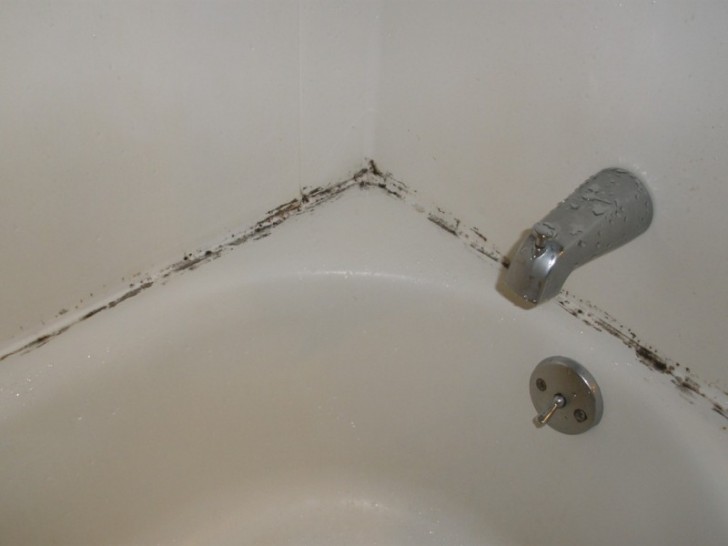 Remove all objects that are usually kept around or on the edges of the bathtub and also take a good look at the corners and all the other places where mold has formed, including the spaces between the tiles (grouts).
Step 2: Apply cotton strips
Dip the cotton into some bleach and shape it according to the area that it will have to cover. The strip of cotton must be about half an inch thick (a centimeter). Apply cotton strips dipped in bleach to all the areas that need to be whitened. Using the handle of a toothbrush, press the cotton strip to make it adhere to the silicone sealing. Then, just leave the cotton strips there for an entire night (as a precaution it would be a good idea to use gloves during application).
Step 3: Remove the cotton
The following morning you can remove the cotton strip and admire the result. With this method, mold can be totally eliminated, especially in the most insidious places in the bathroom, thanks to the slow and non-aggressive action of the remedy used.
Step 4: Finish the job
Once you have removed the bulk of the mold, you can finish the job by pressing the cotton soaked in bleach on the spots that have remained dirty and scrubbing them lightly.

Lastly, some advice about prevention! In fact, to prevent mold from forming, try to keep the bathroom as airy as possible. If this is not possible because there are no windows, then do not leave wet towels in the bathroom, instead, let them dry out on a balcony.