25 cooking tools that you do not know about but you'll want to buy now
1. An easy-to-handle herb mincer.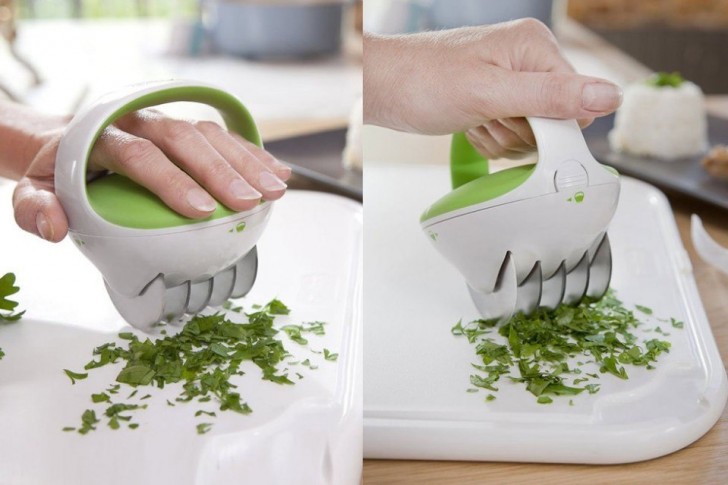 2. Cuts cherry tomatoes and grapes quickly.
3. A spout for pots that facilitates the transfer of liquids.
4. Reusable toast bags.
5. A salad knife
6. A hook to easily pull out oven trays, grills, and to check the cooking stage of dishes.
7. A special soap that eliminates strong odors.
8. A grill for bacon that cooks slices of bacon without the use of oil and without producing grease splatters.
9. A multilayer grid that allows you to increase the number of cooking trays that you can insert simultaneously in the oven.
10. A tool to clean shrimp quickly.
11. An egg-shell breaker
12. A brush with an integrated dispenser to easily season and dress food.
13. A kitchen tool that with a single gesture allows you to separate the sprigs of rosemary and hold them in a container.
14. Perhaps you already know this gadget --- it is an onion holder and cutter!
15. A special container keeps aromatic herbs fresh with a water base that prolongs the life of herbs for up to three weeks.
16. Covers for pens with integrated cutlery --- so that you won't forget them anymore!
17. Here is a very practical stem-remover.
18. Protects your fingers and allows you to slice food safely.
19. These pincers close bags and has an opening that facilitates the transfer of the contents.
20. Sticks to test the doneness of baked cakes.
21. Sterilizer for cans with a thermometer.
22. A brush for washing cutlery.
23. An ultra-efficient hand-operated lemon squeezer.
24. Non-stick frying pan with compartments.
25. A cake baking pan with a small mini muffin tin for tasting.