Two hikers find a dog in the forest and then they read the message on its dog collar tag!
When Scott Brown and his wife decided to hike the Mount Teneriffe trail in Washington (USA), they did not know that they would end up hiking in three!
It all happened in seconds, but only after they had arrived at the waterfalls, the most panoramic spot on the hiking trail did Scott discover something that cleared up the whole situation.
Here's the touching story that happened to two hikers who will never forget that day on Mount Teneriffe.
Scott and his wife had just started walking, when in the snow-covered landscape they saw before them a dark figure.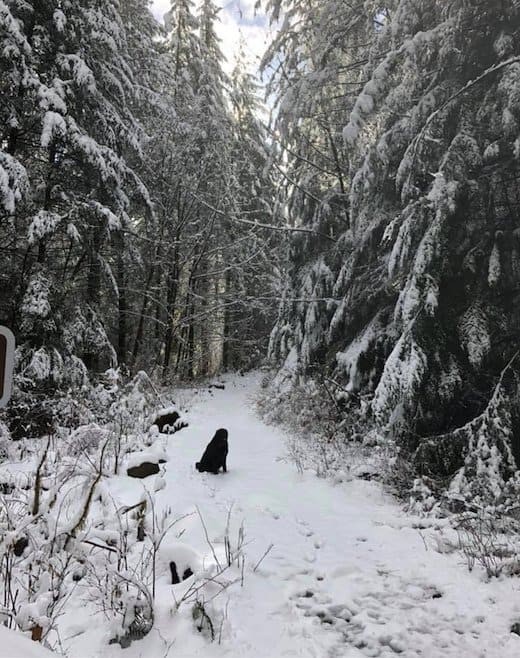 At first, they thought it was a bear, and they were very frightened, but then they realized that the size was too small. In fact, after looking more closely they realized that it was a dog approaching them with a very friendly attitude.
In fact, the dog accompanied them during their hike and did not seem to want to leave them. In addition, the dog also appeared to be very familiar with the hiking trail.
Scott noticed that the dog waited for them even when they stopped to take a photo and then set off again with them all together.
After they had arrived at the waterfalls, Scott took advantage of the break to move closer to the dog and it was then that he noticed the dog collar around its neck bore a tag with an inscription on it.
"Hi, I'm Smokey. I live nearby, so don't take me. I like to follow hikers sometimes."
On the other side of the dog collar tag, the message continued: "Don't worry, I'll go home when I get tired. My people love me a lot. Thank you for being nice!"
While reading what was written on the dog collar tag, Scott could not help smiling! The dog Smokey's company had certainly made their hike more enjoyable and it was almost a displeasure to have to go back down the hiking trail.
Of course, Scott did not forget to take a picture, to have a souvenir of that day that was so nice!
On the way back, Scott noticed a group of houses. One of them must have been the house where Smokey lived and he thought that the dog was really lucky to live in such a beautiful place.
The couple said goodbye to that sweet dog that had managed in a short amount of time to make them fall in love with him, but Scott and his wife were certain they would soon return there, to repeat the excursion with all three of them together once again!