23 of the most absurd and spectacular aquariums that people have ever created!
Having a home aquarium is perhaps one of the most effective ways to make your home environment distinctive and more appealing, in general.
However, even in the world of aquariology, you can opt for something that is not the typical rectangular tank. In fact, if you are a real fan, you can think about hiring professional designers who will create an aquarium that will satisfy your heart's desire. 
Meanwhile, we give you several ideas by showing you some of the most original aquariums on the Internet and even some extravaganzas with smaller dimensions!
An aquarium built into furniture, to fully experience it every day.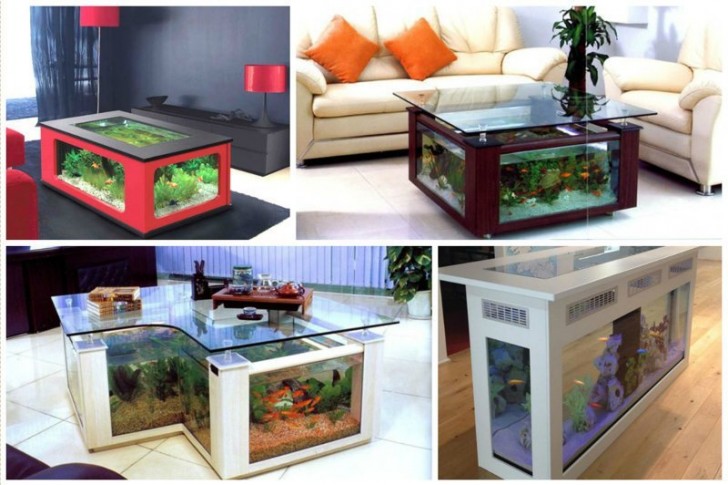 Same concept, offering even more extreme solutions!
An aperitif around this table and you will find yourself dreaming of your next beach vacation in a flash!
An idea for a really impressive aquarium (but be careful not to forget how long you stay in the shower!).
Two tanks, for when you get in the tub and can pretend to be a fish!
These solutions are perhaps among the most expensive ... And for a good reason!
Have you ever thought about installing an aquarium in the kitchen? Here is an idea!
An aquarium instead of the fireplace --- truly original!
These ideas could also be attractive to owners of restaurants specializing in seafood cuisine.
Here we find some smaller solutions but certainly unique and different ideas!
Here is something different --- an aquarium built into the floor so the customers can imagine that the sea is under them!
Let's take a look at the series of "aquariums made from common objects" ...
From the kitchen to the living room ... Which idea excites you the most?
Love cars as well as aquariums? There is something for you too!
Vertical solutions.
The possibilities are endless! Here are some solutions for the office!
High level aquariums!
How about this bubble lamp fish bowls?
Of course, you can also decide how you want the fish tank to be made!
This idea will make you want to practice your piano lessons!
An aquarium to hang.
Upcycling objects that are out of use --- These are great!
Finally, a wall aquarium with thick vegetation. This solution is only for the most experienced in the care of this type of micro-habitat!