Delicious Italian pastry -- "Bomboloni" made at home!
There is an infinite number of different kinds of sweets (cakes, baked puddings, pies, cheesecake, etc), and then there are Italian "bomboloni" with cream! 
We feel that we cannot put these Italian cream filled donuts into any category because their goodness is in a class of its own! What is more, if frying alone already makes these bombs of sweetness so tasty, when you add cream custard, they become virtually irresistible.
In any case, from now on, to eat a bombolone with cream you will not have to go to a bakery, you can savor one made with your own hands comfortably at home. We do not know if this is good or bad ... Anyway, here is the recipe!

Ingredients:
200 ml warm milk
20 g yeast
60 g of sugar
75 g of sunflower oil
2 eggs
grated peel of half an orange
vanilla extract
550 g flour (ideally, half plain flour and half Manitoba) 
Oil for frying
granulated sugar for garnish
1. Prepare the dough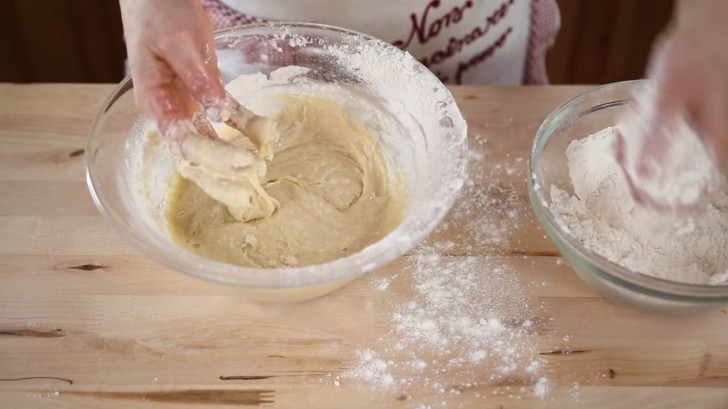 Combine together these ingredients in the following order:
Pour the warm milk into a bowl and crumble the yeast into the milk, let it dissolve and stir to mix well.
Next, add 60 grams of sugar and sunflower oil. Stir, and then add the eggs.
Put the flour in a separate bowl and then incorporate the flour into the ingredients in the previous bowl a little at a time.
Work the ingredients in the bowl well, then pour the mixture on a floured work surface and continue to work with your hands until you get a smooth texture, elastic but not sticky.
2. Place the dough in a bowl with a floured bottom. Engrave a cross on the surface, cover it with plastic wrap and a cloth and leave for 2 to 3 hours in a warm and sheltered place.
3. When it has doubled its size, knead the dough with a rolling pin to obtain this thickness.
4. With a kitchen ring cut out round dough forms. You can also use any object that has the same diameter (8 cm [3 in]).
5. Put the donuts on a baking sheet lined with kitchen parchment paper, cover with plastic wrap and a towel, and let rise for another 30 minutes.
6. In a frying pan heat plenty of oil. Put in a few donuts at a time and gently turn them over until both sides are golden brown.
7. Pass them while still warm in the granulated sugar, then with the handle of a spoon made a hole in the center of each bombolone donut.
8. Use a pastry bag to fill the bombolone donuts with cream custard.
Is your mouth watering yet? These homemade bombolone donuts are infinitely better than the store bought ones! Let us know if you have given in to this delicious temptation!
In the video, you will find all the details for this recipe!