Mother bear brings her cubs for a swim in the pool and what the video camera captures is hilarious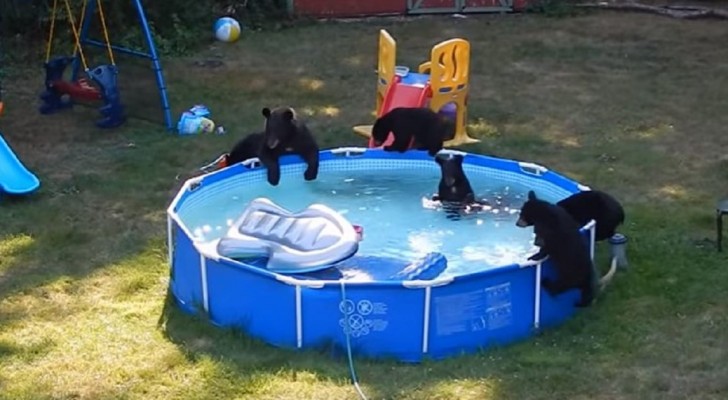 Advertisement
In many parts of the United States, houses are located at the edge of the woods and it is not rare that people find themselves at close range with some wild creature. 
This family from New Jersey happened to see a happy family of bears take over their swimming pool, when a mother bear arrives with her cubs to take a refreshing dip on a, particularly hot day.  
The scene filmed from inside the house - it is always better to keep a safe distance! - is unusual and rather entertaining!
Advertisement
What's funny about this video is the fact that bear cubs behave just like children and display the same enthusiasm when they see the swimming pool.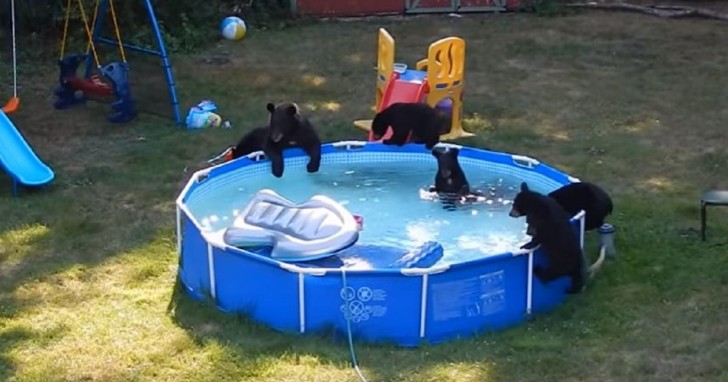 The cheerful family of bears carefully approaches the pool, examining its depth and any possible dangers nearby.
Then one of the bear cubs dares to enter the pool and does so with the same movements as a human being! But the resemblance to human children does not end there! In fact, another bear catches the inflatable ball that was floating in the pool and starts to play with it.

Slowly, one by one the bear cubs become braver and decide to climb into the pool and play in the cool fresh water. In the meantime, mother bear - like any good and respectable mother - stays by the pool to monitor the situation. Furthermore, to have fun and entertain her cubs, the mother bear also agitates and splashes the water with one of her paws.
In the end, not even the mother bear could resist the temptation to take a refreshing dip in the swimming pool.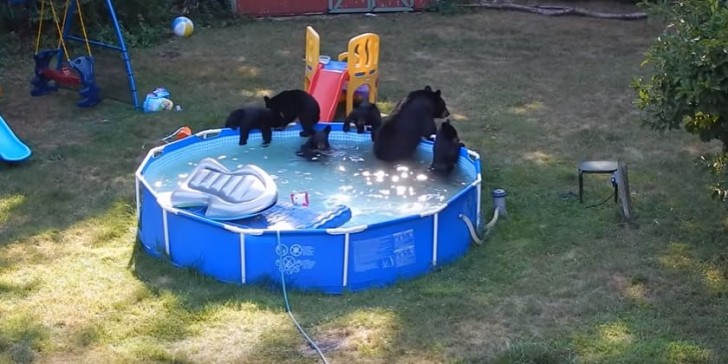 The happy family of bears takes advantage of the absence of the owners of the pool - unaware of their presence inside the house - by taking a rather long dip in the swimming pool.
It should be noted that the water in the swimming pool changed color the moment the bear cubs were immersed. From crystalline, it became dark and cloudy, due to the fur of the little cubs. The owners will have a lot of cleaning up to do!

The police arrived shortly after - as usual in these cases - but the mother bear had already recalled the bear cubs and had left just before the police arrived, probably sniffing out the danger.
An entertaining intrusion that the pool owners could not stop!