Some tips to choose the best pineapple and avoid unpleasant surprises
Whether you get fruit and vegetables from your garden or buy it at the local supermarket, it is normal to choose the most beautiful and the best to bring to the table.
For fruit, the state of ripeness is checked, making sure that it is neither too sour nor too ripe and for vegetables, freshness is what is checked first and foremost.
When it comes to pineapples, however, it is difficult to choose the best one, both because it is not a fruit with which you probably are very familiar and because its outward appearance can reveal very little about its inner quality.
However, here's what you need to look for to choose a pineapple that is suitably sweet and mature!
1. The color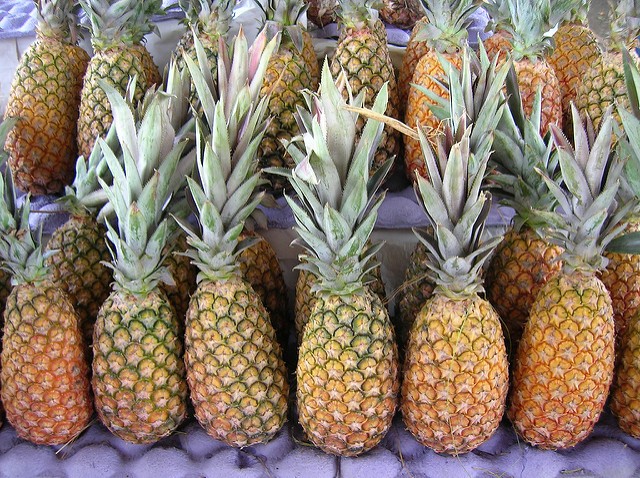 It starts with observing the color of the pineapple to determine if it is a pineapple is worth buying. First of all, the fruit should not be completely green but must have colors ranging from yellow-orange to green, which indicate a correct degree of ripeness.
2. The leaves
It is said that when a pineapple is ripe, it is easy to detach leaves from the center of the pineapple crown. In reality, if it were really easy to detach a leaf from the middle, it would mean that probably the fruit could be soft inside. It is certainly true, on the other hand, that the more the pineapple is unripe, the more the leaves will be attached to the crown, so the truth lies somewhere in the middle of the two extreme cases.
3. The consistency
Before opening and eating a pineapple, try to gently crush it in your hands. You should feel a certain elasticity of the outer part, synonymous with a correct state of maturation. If the fruit turns out to be too hard, you will have to let it ripen a few more days, on the contrary, if it is too soft, it could be rotten. Touch the whole surface of the pineapple and make sure there are no spots that are softer than others, which would mean that the fruit probably took a few blows before being displayed for sale.
4. Smell the bottom of the pineapple
Do you want to know how to recognize the best pineapple, without annoying the sales assistant by touching and feeling all the pineapples? Well, the secret is to smell the bottom of the pineapple. When it is ripe, a very pleasant smell of fresh pineapple emanates from the bottom. If you cannot perceive any particular odor, probably the pineapple is still not very ripe. On the contrary, a too sweet or unpleasant smell is a clear sign that the fruit has gone bad.
And you, what method do you use to choose the best pineapple?