1500 Chinese workers laid the railway line for a new train station in only 9 hours
It is not the first time that Chinese workers have given us proof of their efficiency and speed, but every time we see what they can do, it is a spectacular show (especially for those countries that are used to working and producing at a slower pace...).
The undertaking we are presenting is the construction of a new railway line, Nanlong Railway, which will serve as the main link between South-East China and the central region, thanks to its 153-mile length (246 km).
In these images, in particular, you can see the construction of the paving for the new hub station between the three main lines (Ganlong Railway, Ganruilong Railway, and Zhanglong Railway) and the new line, in the Fujian province, located to be exact, in Longyan.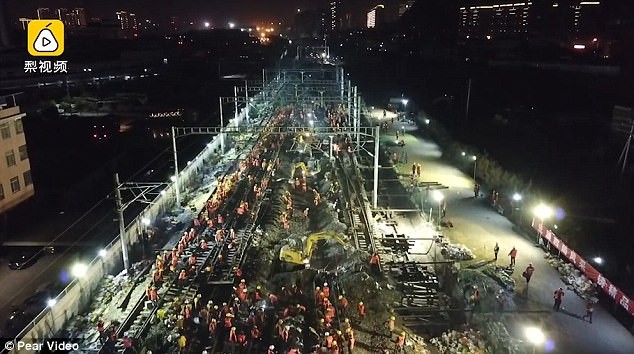 A number between 1000 and 1500 skilled workers was used for the paving of the station, for the installation of traffic lights and the positioning of railway traffic signs and signals. It all started on January 19th and ended on January 20th, about nine hours later.
The project was able to progress so quickly because the workers had been divided into seven units, each of them deputed to a different task. There were also 23 excavators and 7 trains dedicated to the transport of materials to support them. A marvelous example of efficiency that the whole world should take as an example!