Discover a recipe for lighter but very tasty French toast dish!
French toast is a tasty dish that dates back to the Middle Ages. Usually, however, it is rather heavy on the stomach because of the way it is traditionally cooked.
With today's recipe, we want to give you the chance to eat French toast without frying but instead by baking the slices in the oven. This is just one of the many recipes that can without a doubt spruce up your brunch menu ...
Ok! Let's immediately see how to make this unique dish!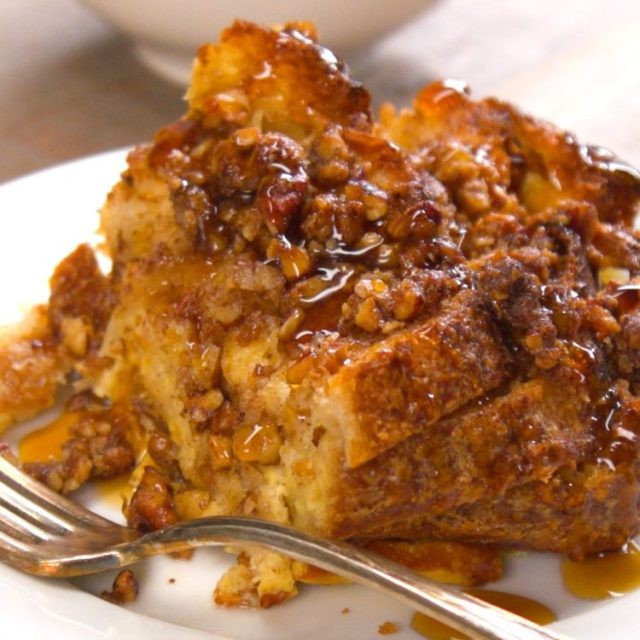 Ingredients for eight people:

8 eggs
100 grams of sugar
2 spoons of vanilla extract
1 teaspoon of cinnamon powder
A pinch of nutmeg
A pinch of salt
125 ml of whole milk
250 ml of cream
1 loaf of naturally leavened bread (better if stale) sliced

Ingredients for the topping:

100 grams of nuts
One teaspoon of cinnamon powder
A pinch of salt
100 grams of sugar cane
100 grams butter (cut into cubes)
#1 Mix the eggs with a whisk in a large bowl.
#2 Mix the sugar, vanilla, cinnamon, nutmeg, salt, milk and cream and stir until a homogeneous mixture is obtained.
#3 Dip the slices into the mixture, next put them in a baking dish, and then pour the rest of the mixture over them.
#4 Cover with plastic wrap and leave in the refrigerator overnight.
#5 Chop up all the nuts and combine with all the other ingredients for the topping, stir and knead until amalgamated.
#6 After pouring the topping over the slices of bread, bake in a preheated oven at 175°C (350°F ) for 45 to 60 minutes.
Your French toast dish is ready! Now, you can add honey or maple syrup to your liking.