DIY hacks to keep your windshield perfectly clean!
Are you among those who like to take care of their car with patience and dedication?
Then, here are some rules to follow to clean the windshield interior of your car perfectly and believe us, after reading the tips suggested by the guy in the video, you will be convinced that knowing how to clean a windshield is actually an art!
Before starting with the inside of the windshield, dedicate some time to cleaning the outside using a product for glass on the entire surface and then rinsing with water. 
In this way, you will be able to see the stains and fingerprints that are located on the interior of the windshield much better!
1. Get yourself a completely dry and clean microfiber cloth and remove the label to avoid scratching the windshield glass.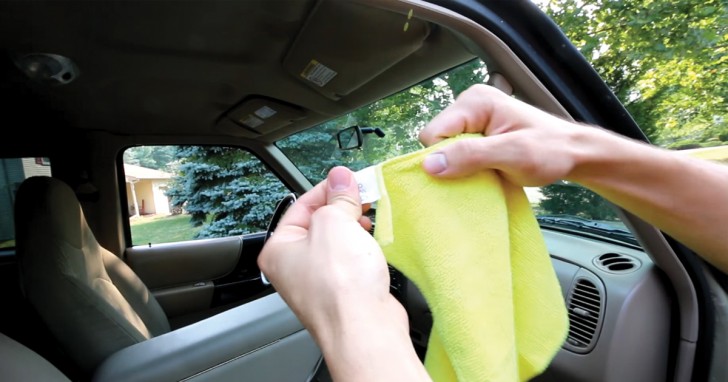 2. Make sure you can get to the hardest part of the windshield which is at the bottom near the dashboard, by climbing into the passenger seat, turning your back to the windshield and moving the microfiber cloth as shown in the picture.
To clean the upper part of the windshield interior just sit normally with your face turned towards the windshield. Proceed first with a circular movement, then use the clean side of the microfiber cloth to pass from the top to the bottom of the windshield. Be careful to not let the microfiber cloth touch the dashboard, you will just smear all the grime on the dashboard back onto your windshield!
3. Continue by cleaning the windshield glass with another clean microfiber cloth and alcohol -- this will allow you to completely degrease the entire surface.
4. The last step is to use a special detergent for glass, but be careful --- do not spray it directly on the glass, but only on the microfiber cloth.
Here is the video that shows the entire process in detail.