Discover This Mouthwatering BBQ Bacon Sushi!
The recipe that we present is interesting because it manages to combine the process of preparing sushi with ingredients that are very distant from traditional Japanese cuisine.
Inside the typical sushi rolling mat with which you usually prepare the fish and rice sushi rolls, we find bacon, ground beef, and cheese. Does the very thought make you turn up your nose?
Do not jump to conclusions ... the end result is certainly among the most interesting and delicious you have ever seen!
Begin by placing six slices of uncooked bacon on a sushi mat.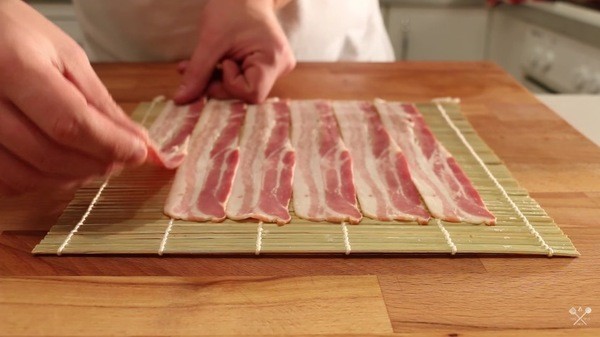 Prepare 500 grams of minced meat by adding spices and seasoning to taste.
Spread the seasoned minced meat on the bed of bacon.
Add a thick strip of Swiss cheese and start to roll ...
Cook on a grill for 25 minutes.
Add the usual seasonings for meat (in this case barbecue sauce).
Continue cooking until the bacon is crispy.
Finely chop some dried onions or crumble some nachos and dip into the mixture until completely coated.
Now cut sushi-like disks.
Serve in the same way as the traditional Japanese dish ... and the effect (and taste) are guaranteed!
Here is the step-by-step video that illustrates the entire preparation process for you ... Bon appetit!
Related Stories