Which glass has the most water in it? Try solving this logic test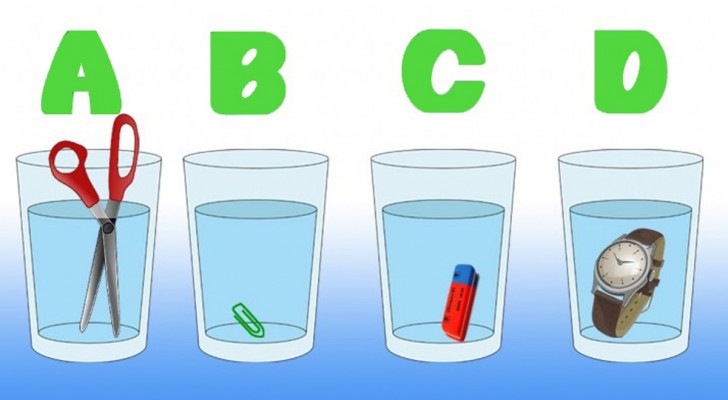 Advertisement
Logic tests are a popular pastime for many people. There are those who can't wait to do new ones, to test themselves and challenge themselves to keep their brains active and sharp. In fact, playing these logic games is a great way to keep your mind from aging prematurely and to train your logical, concentration and reasoning skills to the maximum.
That's why we offer you this logic test - a quick game that can be solved in a very short time, just by being attentive to what is required and not letting appearances deceive you. If you are ready, we invite you to start having fun. Look at the four glasses placed next to each other and decide which one contains the most water.
Advertisement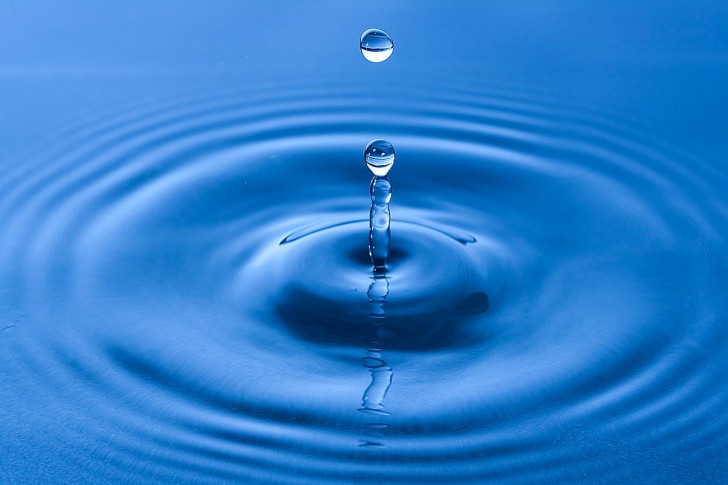 In the image there are 4 glasses filled with water, each of which has a different object in it. In the glass indicated with the letter A we see a pair of scissors, in the second, B, there is a paper clip, in the container C, we see an eraser and in D, there is a clock.
At first glance, it would seem that the quantity of water is the same in each of the containers, but this is not the case at all. Of course, we have to take account of displacement, aka Archimedes' law.
According to the law, when a solid body is placed in water the level increases. Here, then, is the key to solving this logic test. We must pay close attention to each object in the glasses and then make our determination.
Can't work it out? No problem, you'll get the solution soon enough, but give it one last try.
Advertisement
Here's the solution...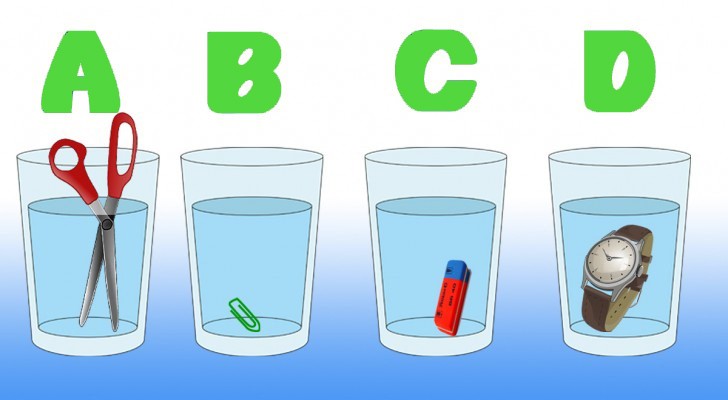 If we keep in mind Archimedes' law of displacement, the solution becomes obvious.
When looking at the objects in the 4 glasses, we will notice how one of them is certainly lighter than the others. Which one? The paper clip of course, without a doubt. So, clearly, the glass with the greatest amount of water inside is the one indicated by the letter B. Since the solid object (the paperclip) is very small, its mass will displace a small amount of water, which is why the liquid contained in that glass was at a highest level from the very beginning.
Did you get the right answer?
Advertisement