6 exercises you can do at home to reduce arm fat
Are you tired of having flabby arms and want to eliminate that superfluous and unesthetic fat! Well, here are six exercises that are just right for you!
They are part of a program recommended mainly for women but that is also indicated for men. Two weights of half a pound each are enough (if you do not dumb bells then you can use two bottles of water of the same weight).
Remember that they can be performed one after the other in sequence and that for each position you have to do at least ten repetitions. The ideal would be to repeat the series of exercises three times.
Cover image: NK Fitness / Livestrong.com
Arm Circles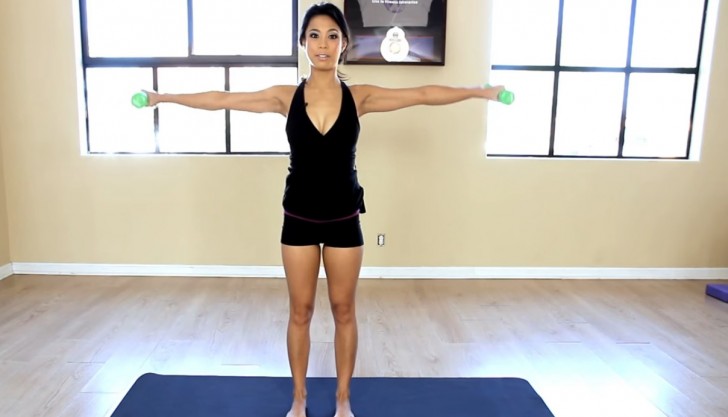 Expand your legs with an aperture equal to the width of your shoulders and bring your arms up parallel to the ground, palms down and draw circles without bending them counterclockwise. Once the repetitions are over, turn the palms up and draw circles in the opposite direction.
Lateral Lifts
Starting with your arms alongside your body, but your hands in front of your thighs and lift the weights up to your shoulders holding your arms wide, return to your initial position and repeat ten times.
Bicep Curls
Hold your arms out and parallel to the ground, palms facing up, pull the weights towards your shoulders bending your elbows and then bringing your arms back to their initial position.
Military Press
Again hold your arms parallel to the ground but keep your elbows bent at a 90° angle, in this position push both arms up simultaneously extending them fully, then bring them back to the original position bent position, and repeat.
Overhead Tricep Extension
Start with your arms stretched up above your head, with your palms facing each other, and in this position bend your elbows up and down while holding the dumb bells.
Pulse Up
Bend your torso forward slightly and hold the weights in front of your knees. Open and close your arms never raising them higher than your shoulders.

Take a look at the video to understand how to do the exercise sequence!