Japanese efficiency is legendary --- take a look!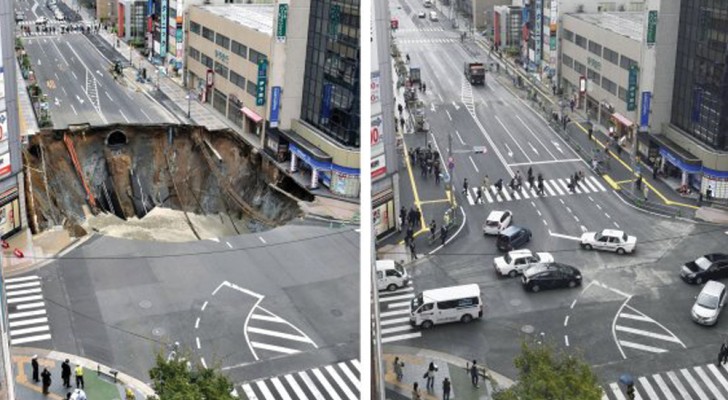 Advertisement
When it comes to working efficiently, no one can surpass the Japanese people, who have earned a reputation as hard workers. Moreover, what happened in the city of Fukuoka does nothing but confirm it!

As you can see in the video at the bottom of the page, a giant sinkhole had suddenly opened downtown, engulfing a street including its traffic lights and street lamps! The cause of the sinkhole is not absolutely certain, but the local media thinks it can be attributed to the construction of a new metro line.
In any case, what is even more remarkable than the downtown street collapsing into a sinkhole, is how quickly the sinkhole was filled and the street completely repaired! 
Advertisement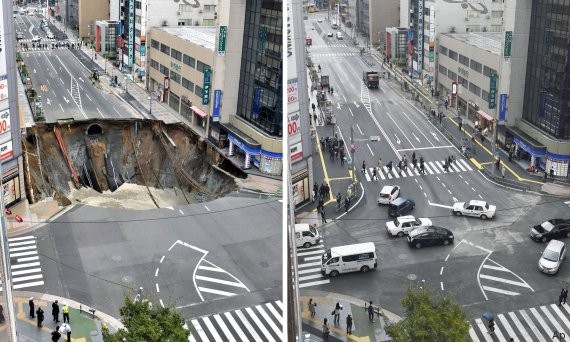 Already 48 hours later, the 15-meter (49 ft.) sinkhole had been filled and the city street reopened to automobile traffic and pedestrians. The workers, in addition to filling the sinkhole with 6,200 cubic meters (218950.9 cubic feet) of sand and cement, also had to repair traffic lights, street lamps, and a sewer pipeline beneath the street.

Needless to say, the success of this titanic and rapid repair work in Fukuoka has earned them the attention and esteem of the whole world.